At the Print Business Outlook Conference held on 15 March in Mumbai a panel discussed packaging design and branding.
"The Smithers PIRA estimates the growth of packaging in India, through 2018, to be on the order of 10% per year. Also, with the per capita packaging consumption in India is low, hence the potential for growth in packaging is high," said BMPA's president Faheem Agboatwala, who moderated the panel discussion.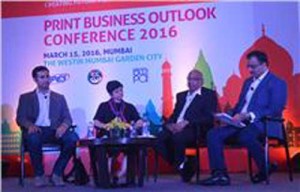 Ashwini Deshpande, co-founder of Elephant Design discussed the leading trends observed in India. The trends being eat fresh and local, the role of the internet and increasing user focus in design. She said, "The solution for a package design is endless, but the solution should be a responsible one."
Abhimanyu Nohwar, founder and director of Kiba Design discussed the human-centered approach in package design and stressed on the need for a design which will be "good and responsible" with the growth in the industry.
Talking about developing responsible packages, Deshpande added, "As a designer, we always focus using paper more since the package would be recyclable and have a lower impact on the environment. But the fact is, do we consider the fact that only paper gets recycled and what happens to the inks on paper."
When asked about packaging industry going the digital way, KM Lakshminarayanan, packaging and sourcing consultant at Galaxy Surfactants and Spectrum Scan said, "Packaging is a volume-based business and there is still a long way to go before digital can meet volumes."
Topics discussed during the panel discussion ranged from wastage to sustainability, the environmental impact of packaging, counterfeits in packaging and the recent trends and development in the industry.
Discussing the role of colours in packaging, Lakshminarayanan said, "The Pantone and spot colours are here to stay. Special colours go a long way in defining a brand. Colour has to be consistent and for large brands special colours used sometimes acts as a differentiation between an original and a counterfeit product," added Deshpande.
"As a designer we understand the customer requirements and user experience and as a package printer, one understands the technical parameters. Hence, an interface between the two is essential which is currently lacking," said Nohwar.
Website:                      www.printweek.in