The US Department of Energy's Carbon Fiber Technology Facility operated by Oak Ridge National Laboratory (ORNL) is accepting proposals from companies that want to test low-cost carbon fibres manufactured in its pilot plant.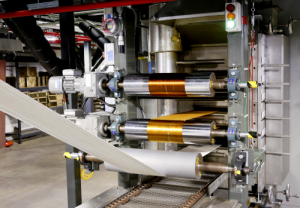 The Carbon Fiber Technology Facility (CFTF), operated by ORNL as part of the Department's Clean Energy Manufacturing Initiative, opened earlier this year. Its objective is to find ways to reduce carbon fibre production costs and to work with the private sector to stimulate wider use of carbon fibre.
In its first months of operation, the CFTF used traditional raw materials to assure the new pilot scale manufacturing line would produce a commercial-quality product. With that goal accomplished, the facility now will use less expensive precursor materials that can be turned into carbon fibre more cost-effectively.
"The first alternative precursors we are working with are lower-cost, textile-grade acrylic fibres that we will turn into sample lots of carbon fibres," says CFTF director Lee McGetrick.
"Companies that would like to obtain some of this material for prototyping of composite applications are invited to come and talk to us."
ORNL is accepting proposals from companies that want to try out the low-cost carbon fibre to develop new products and tap markets in such areas as transportation, energy production and infrastructure (see the federal business opportunity announcement here).
The 42,000 ft2 CFTF has the flexibility to try out different kinds of precursor materials, which typically comprise about half of carbon fibre production costs. In addition to the textile acrylic fibre now in use, CFTF researchers are experimenting with other inexpensive alternatives such as lignin, a by-product of biorefineries and the pulp industry.
Source: www.reinforcedplastics.com