Co-Packer's First Use of PET Delivers Glass-Like Appearance, Reduced Breakage, and Improved Filling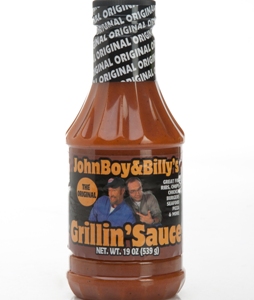 ANN ARBOR, Mich., December 4, 2012 – Old South Foods, a leading bottler and co-packer of restaurant foods, has converted its 16oz barbecue sauce decanter from glass to hot fill polyethylene terephthalate (PET) bottles from Amcor Rigid Plastics, the world's leading producer of PET packaging. The packaging conversion for Big Show Foods' John Boy and Billy's Grillin' Sauce brands represents Old South Foods' first use of PET containers. Moreover, it is the first commercial adoption of Amcor's 16oz hot fill stock decanter – the company's latest hot fill stock package for foods such as barbecue sauces, marinades, and salad dressings.
Conversion to PET for the 16oz decanters has been a "wonderful replacement" providing significant benefits including light weight and reduced breakage along with major filling advantages, according to Greg Peckham, plant manager for Old South Foods. "PET bottles are much easier to fill than glass, thus offering us greater accuracy in meeting proper volume measurements," said Peckham. "As a result, we're able to significantly increase our productivity and output." The 16oz decanter has a 38mm 400 finish, which is compatible with a range of induction seal label systems.
Brand owner Big Show Foods sought out glass replacement options from C.L. Smith, a leading St. Louis-based manufacturer and distributor of packaging. C.L. Smith sourced the Amcor 16oz hot fill decanter and handled all product testing and compliance. "As a full line distributor, our part was to provide a highly effective packaging solution that met Big Show Foods' overall business goals and in doing so potentially increase their market share due to the growing consumer preference for PET packaging," said Ellen Mughal, director of marketing for C.L. Smith.
The 38.4 gram hot fill (up to 185°F) decanters have resulted in a major reduction in freight costs and significant reduction in breakage/damaged goods during manufacturing and in charge backs from retailers. Lightweight PET also delivers glass-like appearance and shelf life appeal to maintain John Boy and Billy's Grillin' Sauce brand image. The barbecue sauce products, available in four varieties including original, sweet and mild, hot and spicy, and eastern vinegar, are sold in supermarkets and big box retailers including Walmart and Target throughout the Southeast.
The recent launch of 16oz and 32oz hot fill family size decanters further exemplifies Amcor's leadership role in the production of hot fill containers for the food industry. Last year, Amcor successfully commercialized 12oz 38mm ring neck style and 24oz 63mm wide mouth hot fill stock bottles for the food market. The company continues to focus on the development of new product offerings to meet the hot fill needs of food manufacturers.
About Old South Foods
Old South Foods has been in business for over 30 years, combining modern technology with old world cooking methods to produce the richest, most robust restaurant foods. The company's insistence on using the freshest, highest quality meats, vegetables, and spices guarantees delicious recipes that customers come back for time and time again. From our stainless steel cooking kettles to our customers' plates, each step in Old South Foods' product process ensures quality, value, and excellence. Old South Foods operates a 30,000-sq-ft manufacturing facility on 47 acres in Lucama, N.C. The product line includes spaghetti sauce with meat, hot dog chili, chili with beans, marinara, pizza sauce, and bottled barbecue sauces. For more information, visit www.osfsauces.com.
About C.L. Smith
Founded in 1975 by Clarence L. Smith, C.L. Smith is a privately held, family-owned company that delivers a range of packaging solutions. The company manufactures custom and stock plastic bottles; designs, tests, and certifies combination packaging for hazardous materials; and distributes a full-line inventory of packaging and custom designed bottles and packaging solutions through a network of warehouse locations. C.L. Smith employs lean management principles throughout its entire organization and is an advocate for sustainable packaging. For more information, visit www.clsmith.com.
About Amcor
Amcor Rigid Plastics is among the world's largest manufacturers of plastic packaging for the beverage, food, spirits, personal and home care, and pharmaceuticals industries with 65 facilities in 12 countries. Amcor Limited is a global leader in responsible packaging solutions, employing more than 35,000 people worldwide, operating in 43 countries across 300 sites. Amcor supplies a broad range of plastic (rigid and flexible), fibre, metal, and glass packaging solutions to enhance the products consumers use in everyday life. Amcor also provides packaging-related services that help customers succeed through collaboration and innovation driven by art and science. Amcor is headquartered in Melbourne, Australia, and is listed on the Australian Securities Exchange. For more information, visit www.amcor.com.