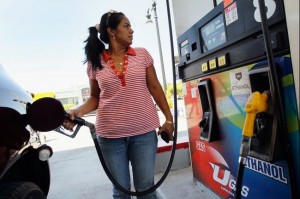 BANGKOK (AP) — Oil prices fell in Asia after employment data released by the U.S. government suggested stubborn weakness in the world's No. 1 economy.
Benchmark oil for October delivery fell 9 cents to $96.33 per barrel at midday Bangkok time in electronic trading on the New York Mercantile Exchange. The contract rose 89 cents to finish at $96.42 per barrel on the Nymex on Friday. Brent crude, which is used to price international varieties of oil, rose 24 cents to $114.49 on the ICE Futures exchange in London. The contract rose 76 cents to end at $114.25 on Friday. The U.S. Labor Department said Friday that employers added 96,000 jobs in August, fewer than experts had expected. Construction and manufacturing are also slowing.
Due to the slumping data, many analysts now expect the U.S. Federal Reserve bank to unveil a new bond-buying program at its meeting later this week. The goal would be to lower long-term interest rates and encourage borrowing and spending, although experts question how much of a long-term effect it would have on the economy since interest rates are already so low. "Friday's U.S. job's report was much worse than even the dismal headline numbers suggest," said oil analyst Stephen Schork, noting that job gains for July and June were revised downward.
"According to the U.S. Bureau of Labor Statistics, total nonfarm payroll employment rose by 96,000 in August. However, at the same time 368,000 Americans gave up on looking for a job and dropped out of the workforce," Schork said in an email commentary. Such numbers show the world's No. 1 economy operating below par, a negative for energy prices. In other energy futures trading on the Nymex, wholesale gasoline rose 1 cent to $3.0323 a gallon. Heating oil rose 1 cent to $3.1588 a gallon. Natural gas lost 2 cents to $2.667 per 1,000 cubic feet.
Soure : http://news.yahoo.com/oil-prices-fall-disappointing-us-053807585.html?_esi=1