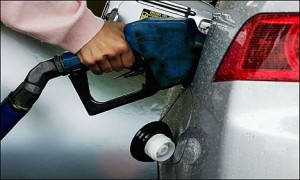 BANGKOK (AP) — Oil prices fell Monday after weaker-than-expected manufacturing data from China intensified concerns about the global economy. Benchmark oil for October delivery was down 16 cents at $96.31 a barrel at midday Bangkok time in electronic trading on the New York Mercantile Exchange. The contract rose $1.85 to finish at $96.47 per barrel Friday in New York.
Brent crude for October delivery was down 20 cents to $114.37 on the ICE Futures exchange in London. A report released Saturday by the state-authorized China Federation of Logistics and Purchasing said its purchasing managers' index, a measure of manufacturing activity, fell to 49.2 in August from July's 50.1. Numbers below 50 indicate activity is contracting.
That was a nine-month low, according to analysts at Bank of America Merrill Lynch, who said in a market commentary that investors need to be prepared for worsening data about Chinese inflation, industrial production, retail sales and trade. Weak economic growth tends to lead to lower fuel consumption and energy prices often fall as a result.
A second survey backed up the federation results. HSBC Corp. said Monday its purchasing managers' index for August fell to its lowest level in more than three years and showed manufacturing contracted for a tenth straight month.
China's economic growth fell to a three-year low of 7.6 percent in the quarter ending in June, and corporate profits and other indicators have fallen despite government stimulus measures.
In other energy futures trading, heating oil fell 1 cent to $3.17 a gallon while wholesale gasoline was steady at $2.97 a gallon. Natural gas fell 2 cents to $2.78 per 1,000 cubic feet.