New: "Packaging" versions of electric and hybrid Allrounders
Perfectly matched: combination of clamping unit and injection unit sizes
Production efficiency: cost-efficient production of high-quality closures and thin-walled articles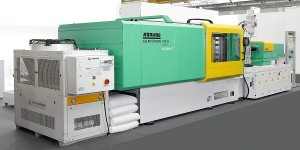 Lossburg. In the packaging industry, fast, high-quality volume production using reliable and efficient technology is essential. With the new "Packaging" version of the electric and hybrid Allrounder Alldrive and Hidrive machines, Arburg meets these demands. The two high-performance machine series offer high productivity and reduced energy consumption. These Allrounders bear a "P" for "Packaging" following the machine designation.
The "Packaging" versions of the Allrounder Alldrive (A) and Hidrive (H) have been consistently enhanced as complete, high-performance solutions. The machines have been optimised in almost all areas for this purpose.
Precisely tailored to packaging requirements
One excellent example of this is adaptation of the combination of "distance between tie bars – clamping force – opening stroke" to the performance characteristics to suit the requirements of the packaging industry. The "Packaging" versions are consequently available in the following sizes: the Allrounders 570 A and H feature a clamping force of 1,800 kN, Allrounders 630 A and H 2,300 kN, Allrounders 720 A and H 2,900 kN, Allrounders 820 A and H 3,700 kN and Allrounders 920 A and H 4,600 kN.
The torsionally rigid, longitudinal steel machine base supports accommodate heavy mould weights and compensate for high load changes during mass movements. The FEM-optimised mounting platens combine the necessary rigidity with low weight. Together with servo-electric toggle-type clamping units, this facilitates extremely fast opening and closing movements, leading to shorter overall cycle times. At the same time, energy recovery during braking ensures that the energy applied is used even more efficiently. Energy savings totalling up to 30% can be achieved in comparison with hydraulic clamping systems.
In the case of the "Packaging" version, the next higher injection unit size is also available for each particular machine size. This means that up to four injection units are available for each machine type, ensuring that the high plasticising performance required in the packaging sector can be achieved. Servo-electric dosage drives ensure fast operation across cycles, short dosage times and maximum productivity. The use of barrier screws ensures homogeneous melt preparation and a high material throughput. Injection involves either servo-electric or hydraulic accumulator technology via position-regulated screws.
With an appropriately dynamic filling process, active acceleration and deceleration is achieved. Together with higher injection speeds of up to 500 mm/s, this enables the short injection times which are required in the packaging sector. If production sequences need further optimisation, injection can be started simultaneously with the "mould closing" movement as standard. Once again, the aim here is to reduce the cycle times in order to achieve high productivity in manufacturing.
Special features for the production of thin-walled items
For the production of thin-walled items and screw caps, special features are available which enable the "Packaging" Allrounders to be adapted quite individually to the particular application. The equipment for producing thin-walled items includes preparations for connecting an external in-mould labelling system or other removal system. In addition, the extension of the robotic system interface enables the robotic system to advance as the mould opens. Once again, the main advantage here lies in the effective reduction of the entire cycle time. Freely programmable ramps for the hydraulic ejector ensure the fast and gentle demoulding of parts. Valve clusters with large diameters help with rapid actuation of pneumatic functions in the mould, such as air blow.
Special features for screw cap production
In screw cap production, fast, reliable ejection of mass-produced parts is what counts. For this purpose, a servo-electric ejector with hydraulic booster function, in other words an increased ejection force of 250 kN, is available. This ensures problem-free demoulding even in the case of shrunk-on closures. The "ejection" and "mould opening" steps can be synchronised. The dropping of the moulded parts can be adjusted with precision to keep the mould opening times short. Higher screw circumferential speeds enable correspondingly short dosage times. This permits very fast cycle times.
To this are added the expanded control for additional signals and an interface for dying or dosing units so that the peripherals can be fully integrated in the production processes.
Important additional control functions
Further control functions are also integrated in the "Packaging" version, such as "start-up parameters/start-up cycles". This Selogica function facilitates a controlled start of production, particularly with high-speed applications. This makes for efficient operations because, for example, there is no need to adjust process parameters for start-up purposes and this can be implemented automatically.
Another interesting function is the start-up circuit (?? sequence – switching concept?) at the start of production, permitting rapid and safe start-up when multi-cavity moulds are used. The machine is adjusted so that the automatic sequence is interrupted following advancement of the ejector. The production process only restarts after the system has been manually released by personnel via the control panel of the Selogica control system. This is significantly more convenient for machine operators. The partially automated start-up phase can be checked with great ease, for example to establish that all cavities have been demoulded or that the hot-runner system is working correctly.
When it comes to packaging, Arburg can offer expert advice
The extensive technical and consulting services from Arburg make the company an expert partner for the packaging industry. In addition to the "Packaging" versions of the special hybrid and electric Allrounders, customers can also rely on system services, such as the planning of entire systems, start-up, CE certification and a worldwide support organisation. All activities in this area are coordinated by an expert packaging team consisting of technicians and sales staff with a profound knowledge of all issues relating to packaging production.
Production efficiency for the packaging sector
The entire Arburg concept for the packaging industry is a further positive example of cooperation between machine manufacturers and expert partners for the purpose of increasing production efficiency. Not only was a suitable technical solution for producing high-quality packaging items developed, additional offers and services were also included in the program, making it easy for interested parties to take their first steps in the production of high-quality items efficiently and at low unit costs. Support by Arburg and its cooperative partners covers all aspects of the value-added chain.