Oz Seals has introduced a new range of plastic engineering materials designed to exceed the performance of conventional bearing materials.
The new and improved Oz Monyt Super Polymer by Oz Seals is classed as a super strong bearing material surpassing acetal, filled nylons, filled polyesters and bronze. Oz Monyt also offers high abrasion resistance, load bearing capacity, lubrication properties and dimensional stability in addition to bulletproof strength. The lightweight material is suitable for marine and military applications, and provides a service life of over 10 times that of other plastic engineering materials.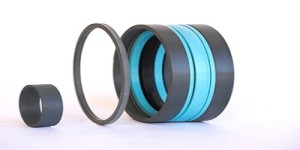 An ideal bearing material for weir bands, back-up rings, step seals, anti-extrusion rings and glide ring seals, Oz Monyt Super Polymer does not change its characteristics in dirty and un-lubricated conditions thanks to its permanent triple lubrication properties, low friction co-efficient (0.18/0.22) and excellent bush temperature resistance of up to 120°C. These properties also allow higher speeds to be used for improved performance.
Under high pressure, the bearing material retains its shape and does not swell when immersed in water. Managing Director of Oz Seals Wilhelm Prinz explains that the material has great memory, requires little clearance and needs virtually no allowance for moisture changes.
Recommended for various industries and applications, Oz Monyt Super Polymer is considered as an ideal bush material for marine applications in addition to various applications in the mining, earthmoving, aviation, industrial, commercial, automotive and construction industries.