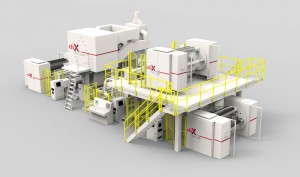 Davis-Standard has launched a new dsX flex-pack extrusion coating line that the company said will give converter and package printers distinct advantages in the flexible packaging market. This pre-engineered line can be delivered in six months and the company said the line is targeting a variety of rapidly emerging application opportunities including salted snack and noodle bags, toothpaste tubes, sachet packs, personal care products, condiment packs and stand-up pouches.
The dsX flex-pack flexible packaging line includes flexible packaging unwinder; corona treaters; extrusion laminator; gravure primer coater dryer; pull roll with nip; winder; electrically heated, air-cooled Davis-Standard extruder with advanced feedscrew design; downstream, carriage, and controls (Seimens drives and controls used throughout). Lines are available in two versions: one is a longer line with the auxiliary unwinder placed close to the floor; the other raises the auxiliary.
Advanced computer technology that is standard on the dsX flex-pack includes DS APC (automatic profile control), which continually adjusts the product profile for best performance, and a DS5 computer, which allows for remote access to the line for troubleshooting and updating over a secure internet connection, the company said. Performance data is exportable to factory systems for SPC and other analytical management tools.
"We have included everything our customers will need to achieve their flexible packaging manufacturing objectives," said Bob Florence, executive VP of sales and marketing for Davis-Standard, in the news release. "Whether they are converters looking to upgrade for higher throughputs and quality; multinational suppliers in search of expansion opportunities; high-quality printers who want to enhance their lamination processes; or start-ups who could benefit from partnering with a company that can lead them through all the steps that assure extrusion coating success."
The dsX flex-pack extrusion coating line represents the first of many new innovations by Davis-Standard within the next year and reflects the company's new-found transformational culture, the company said. The goal is to help customers be more competitive by optimizing their ability to respond to market and its ever-changing needs.
Source: http://www.plasticstoday.com/articles/New-extrusion-coating-line-from-Davis-Standard-targets-flexible-packaging-market0327201301