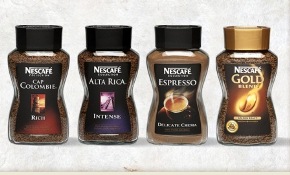 The food and drinks giant said it is using a process called 'Inclusive Design' to help make its packaging easy to open.
The initiative was established by the University of Cambridge.
Nestlé said it was the first food and beverage company to adopt this method following its partnership with the university in
2009.
Companies can use a number of specialist Inclusive Design tools to determine how they can make products easier to use.
Nestlé UK head of packaging David Wiggins said: "Nestlé is taking a lead role in the development of this design philosophy. Inclusive Design allows us to move from good design to great design. It is about pioneering design that benefits all our consumers."
Nestlé also aims to make its products safe to use, maintains freshness, provides easy to understand instructions and minimises waste.
Special pair of gloves
In Australia, a special pair of gloves designed by researchers at the Georgia Tech Research Institute in Atlanta in the US is helping Nestlé understand the impact of arthritis.
Nestlé packaging experts used the gloves on five of the company's most popular products to simulate the way the debilitating disease restricts an arthritis sufferer's movement and strength.
As a result, Nestlé launched an Accessibility Benchmarking Scale last year with Arthritis Australia. The scale allows packaging designers to predict how many people can use their packaging.
"Consumers want packaging that is easy to open and products that are easy to use," said Arthritis Australia Strategic Partnerships manager Fergal Barry.
The Nescafé Gold packaging was redesigned last year to make the company's coffee product easier to use with a new easy-​to-​hold jar, 'click and lock' screw cap and easy-​peelable foil membrane.
Source : www.packagingnews.co.uk