Natural gas vehicles (NGVs) on the road in the world's seven largest automotive markets will reach only 7.5 million as the industry struggles to capitalise on cheap shale-driven natural gas, according to a report from Lux Research.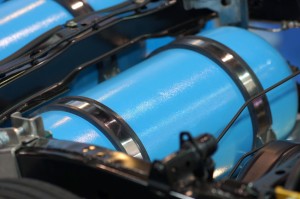 In order to be used as transportation fuel, natural gas needs to be converted into liquid fuel using capital-intensive technology, or vehicles need to be retrofitted to run on compressed natural gas (CNG) or liquefied natural gas. Technology innovation is not the most decisive growth factor – fuel price differentials, payback period for premium-priced NGVs and fueling infrastructure are the major drivers of growth, notes the report Shale Takes on Automotive: The Future of Natural Gas Vehicles.
"Cheap natural gas is disrupting the electricity, chemical, and heating industries, but the impact on the transportation market has been minimal," says Andrew Soare, Lux Research Senior Analyst and the lead author of the report.
"Technical and economic challenges mean that's likely to remain true – even if fuel splits widen."
Lux Research analysts built a market forecast model to predict NGV sales in the seven key auto markets that account for 75% of vehicles on the road today: the US, Europe, China, India, Brazil, Russia, and Japan. The findings include:
Fuel price differential is a key driver. Oil price and natural gas price affect the NGV payback period, by affecting how much NGV vehicles save on fuel costs relative to gasoline or diesel powered vehicles. However, NGV vehicles come at a higher upfront cost, and reducing this premium shortens payback the most.
India and China are top markets, but have low penetration. The world's two most populous countries are the 5th and 6th largest NGV markets, respectively, but NGV penetration is only around 1% in each. In 2015, the two nations will occupy the top two spots of the seven nations surveyed – China with sales of 540,000 and India with sales of 250,000.
User behavior will stymie US growth. Even with favourable fuel pricing and low payback periods, NGVs are a tiny fraction of the US vehicle market, owing to user resistance to new vehicles and entrenched driving and fuelling habits. What's more, natural gas prices in the US will likely rise over the next few years, reducing the fuel price differential.
Source: www.reinforcedplastics.com