An India-Japan Cooperative Science Programme has raised hopes of finding better ways to deal with environmental pollution caused by plastics, using the molecular evolution technology.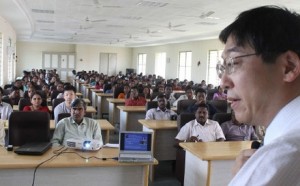 Japanese collaborator Dr Toshiaki Nakajima Kambe, attached to the School of Bio-industrial Sciences at the University of Tsukuba in Japan, who visited Thiruvalluvar University on Wednesday, told Express that special enzymes derived from microbes available in nature could be harnessed to degrade different varieties of plastics. His ten-year research is likely to bring relief to the world community, which is bogged down with issues of handling plastics and its associated ill effects on the environment.
Dr Ernest David, head of Department of Bio- technology at Thiruvalluvar University, noted that the Japanese expert had opened up new options for people to handle plastics in an effective way.
Toshiaki, while interacting with students explained how the microbes and the enzymes produced by them could be populated and used to degrade plastics using the technology he has developed. He said a particular enzyme TB-35 was capable of degrading plastics within one hour to three days, depending on the chemical composition of plastic materials.He also pointed out that specific variety of enzymes could be developed to recover pure monomers from polymers from the mixture of plastics.
However, the TB-35 has limitations as it works well only in Japanese environment, which has led to the India-Japan collaboration. Dr M S Kamini, a senior scientist at the Central Leather Research Institute in Chennai, who is collaborating with Dr Toshiaki said, her work on developing a chemical free process to produce leather using enzymes had helped her identify new varieties of such enzymes, which could deal with plastic wastes as envisaged by the Japanese research. The new enzyme would be lab-tested in Japan shortly, she said.
Toshiaki is also working on developing an emission-free, cost effective bio-ethanol from glycerine, produced from bio-diesel plants, using the enzyme technology in collaboration with various Japanese industries.He is using the same technology to convert PET bottles into other products such as carpets. The citizens of Japan received potable water from local administration and hence water was not bottled and sold, he added.
Source:
newindianexpress.com/states/tamil_nadu/Microbes-can-curb-plastic-menace-Japanese-Expert/2013/11/14/article1889385.ece