BARCELONA, Spain, October 30, 2012 – Merquinsa, a Lubrizol company, today announces that it will participate in the TPE 2012 conference, which will take place in Berlin on November 13-14, 2012. Organized by Smithers Rapra, the conference will be attended by material manufacturers, compounders, tier one and two suppliers and end users of thermoplastic elastomers.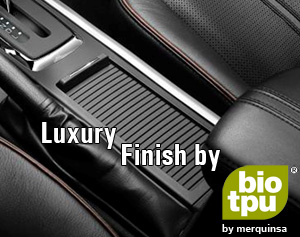 Mrs. Maria Josep Riba, elastomers application lab manager at Merquinsa, will participate as a speaker, discussing new high performing specialty TPU grades for industrial markets and applications, during the TPEs with Significant Bio-Content session on November 13. The presentation will focus largely upon the innovations introduced in the TPU product portfolio based on polycaprolactone "H" technology for pneumatic tubing. Also highlighted will be other TPU product offerings under the Pearlthane® trademark with a similar property mix, bio-based content or enhanced transparency for industrial parts.
The new TPU formulation resulting from "H" technology combines good burst pressure, chemical resistance and mechanical properties with superior processability and fast line speed. Pearlthane specialty TPU technologies have been developed focusing on the specific properties needed to obtain a high performing material. Comparative tests show TPU characterized by its enhanced performance in tube and hose applications.
About The Lubrizol Corporation
The Lubrizol Corporation, a Berkshire Hathaway company, is an innovative specialty chemical company that produces and supplies technologies to customers in the global transportation, industrial and consumer markets. These technologies include lubricant additives for engine oils, other transportation-related fluids and industrial lubricants, as well as fuel additives for gasoline and diesel fuel. In addition, Lubrizol makes ingredients and additives for personal care products and pharmaceuticals; specialty materials, including plastics technology and performance coatings in the form of specialty resins and additives. Lubrizol's industry-leading technologies in additives, ingredients and compounds enhance the quality, performance and value of customers' products, while reducing their environmental impact.
With headquarters in Wickliffe, Ohio, The Lubrizol Corporation owns and operates manufacturing facilities in 17 countries, as well as sales and technical offices around the world. Founded in 1928, Lubrizol has approximately 7,000 employees worldwide. Revenues for 2011 were $6.1 billion. For more information, visit www.lubrizol.com.