China's PET market witnessed some softening after gaining ground for seven consecutive weeks. Lower spot PTA and MEG costs were cited as the main reason behind the latest reductions, according to ChemOrbis. Theoretical PET production cost calculations based on spot PTA and MEG prices declined by $45/ton over the past week. Weak export demand was also cited as another factor weighing down PET prices.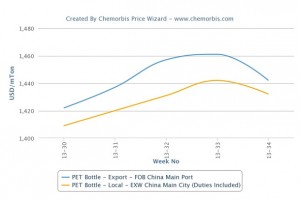 A domestic producer lowered their local prices by CNY50-100/ton and export prices by $20/ton week over week in line with lower feedstock costs. A producer source reported, "We are not planning to start up our 300,000 tons/year new PET plant earlier than September of this year due to poor market conditions and weak margins."
A source from another producer reported that they have raised their export prices by $20/ton, adding, "We are willing to concede to some discounts, especially for large volumes, due to a drop in PTA futures. Overseas buyers prefer to buy South Korean cargoes as the price gap between Chinese and Korean cargoes recently shrank. Export volumes have witnessed larger reductions compared to July this month." The source projects a stable to softer trend in the short term given thin trading activities.
A different producer lowered their export prices by $25/ton to attract buying interest. A source from the producer said, "Demand is slow as overseas buyers showed little interest to restock in anticipation of obtaining discounts later in the month. Local prices posted smaller decreases than exports owing to better demand from the domestic market."
A converter confirmed receiving lower PET offers, commenting, "We bought some cargoes to meet our urgent needs but we avoided making large purchases in case prices decline further. However, we do not expect to see sharp reductions in the short term considering that PET producers are still running their plants with negative margins," according to ChemOrbis.