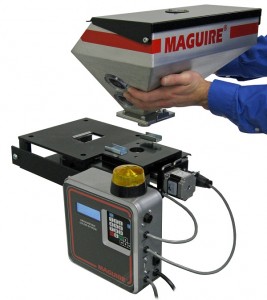 The widely used Maguire® MGF™ gravimetric feeder for metering colorants and additives into plastics processing machines now provides substantially greater accuracy and up to double the throughput, it was announced today by Maguire Products, Inc., which will show the enhanced system at NPE2012 (Booth 5963).
Test data available from Maguire comparing the enhanced MGF unit with the leading competitive gravimetric feeder indicate that when each was equipped with a half-inch (12.7 mm) auger, the Maguire device provided a far wider throughput range—0.4 to 120 lb./h (0.2 to 54 kg/h), as against 1.5 to 55 lb/h (0.7 to 25 kg/h). Dosing accuracy was also greater. In tests involving 100 dispense cycles with a target of 11 grams per dose, the MGF average was exactly 11.1 grams, versus 11.3—a 1.8% variance—for the competing feeder
Maguire achieved this boost in performance by replacing the continuous-rotation electric motor used for driving the feed auger with a stepper motor that completes each rotation in 200 increments and at a maximum speed of 100 rpm. In combination with digital control, the 200-step cycle achieves finer resolution in metering ingredients into the molding or extrusion process.
The high motor speed makes possible a doubling of throughput to 120 lb (54 kg) per hour in extrusion and up to 40 lb. (18 kg) per hour in cyclical processes like injection molding. The throughput range for a given auger size has also increased, reducing or eliminating need for auger changes.
"The finer resolution made possible by the stepper motor adds to the intrinsically greater accuracy of our gravimetric feeder in comparison with volumetric devices, increasing the ability of molders and extrusion processors to reduce color and additive consumption, better control product quality, and document color usage," said B. Patrick (Pat) Smith, vice president of marketing and sales. "These improvements come at no added cost to customers., who can still purchase our MGF feeder at the same price as our volumetric system and for 35% less than competing gravimetric devices."
Maguire has sold more than 800 units of the MGF feeder worldwide and offers the system with a five-year warranty.
Gravimetric Feeders Are Inherently More Accurate than Volumetric
The MGF feeder uses dual load cells to accurately monitor the loss in weight of colorant in the hopper as the material is fed into the processing machine. This is one of the keys to the greater accuracy of the MGF feeder over volumetric systems, according to Smith.
"Volumetric feeders do not monitor the weight of colorant as it is fed to the processing machine and thus generate no data about how much of the material is actually consumed from moment to moment," Smith said.  "Because a gravimetric system generates a wealth of data on color consumption, it adjusts color metering far more accurately to account for process variations."
The key to adjusting for process variations is Maguire's loss-in-weight software in the feeder control. This proprietary system scans data on color consumption every half-second and automatically adjusts dispensing when a predetermined amount of accumulated error is detected.  "By responding exclusively to accumulated error over a given period of time, Maguire's software focuses on real changes in throughput, not transitory or anomalous changes caused by vibration, clumping, or surges," Smith said. "Thus the system provides real-time control and absolutely smooth metering consistency."
The only component of the MGF feeder actually mounted on the load cells is the hopper, and this is readily removable from the device, as are the auger, the auger tube, the motor, and the load cell bracket. As a result, it is easier and faster to access components for cleanout or servicing.
Standard features of the MGF feeder include a USB port for data collection and software updates, an Ethernet port for open communications, automatic priming and flow-rate calibration, and loader control via the feeder controller. Also standard is an "extrusion following" system that automatically anticipates and adjusts for gross variations in extruder rate like those during changes of film rolls.