Großbottwar, July 2013. Antares is the name of a new line of compact single-shaft shredders made by Lindner reSource which deliver up to one-third more throughput than previous machines in this class, but at the same price level. Available in four design sizes and numerous equipment configurations, the units are perfectly adaptable to specific requirements in the plastics processing and recycling industry.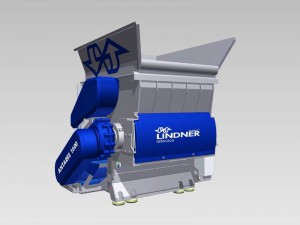 Thus, typical applications range from postconsumer materials to special tasks such as in-house recycling of films, filaments, start-up lumps and sheets/plates. Lindner reSource will present this new line for the first time at K 2013 (stand B17, Hall 9).
Common to all versions of these machines are their high energy efficiency, exceptional operator friendliness and very good accessibility of all components. This can reduce both operating costs and maintenance or retooling expenditures, since standard interventions – e.g., a change of wearing parts or screen replacement – can be performed very quickly. The sturdy design and proven safety technology characterizing all shredders built by this manufacturer guarantee smooth production workflows for a long time. Delivery times can usually be kept short due to Lindner's modular "building block" system, from which most components are derived.
The Antares line starts with the Type 1000 model and goes up, through the 1300 and 1600 versions, to the Antares 1900 with its 1880-mm-long rotor. At the user's option, each machine can be equipped with a point-blade rotor for precise high-throughput shredding of, e.g., big bags, filaments and agricultural films. Alternatively, an energy-saving square blade rotor can be fitted for optimum performance with hard plastics. At motor ratings from 37 kW up to 110 kW, the units deliver typical throughputs between 500 and 2500 kg/h. Especially the Antares 1900 thus almost measures up to the next larger, Micromat Plus shredder line.
Harald Hoffman, Managing Director, comments: "In order to achieve this substantial performance gain by approx. 30%, we fully redesigned the blade arrangement along the rotor. Our engineers were thus able to accommodate up to 40% more blades. In addition, we revamped the design of the counterblades and optimized the cutting geometry. If necessary, cutting performance can be raised further by mounting an optional stripping comb."
Another Antares innovation is the optional "Skylight" maintenance and service hatch. This all-new feature is operated manually and permits a particularly quick replacement of the blades and counterblades, accurate counterblade adjustments and a convenient removal of foreign matter. The hinge-mounted screens are segmented and can be conveniently changed by hand without any use of lifting equipment.
A hydraulically opening screen basket – another advancement on the options list – further reduces shredder down times in the case of a product change. The optional rotor cooling system enables the machine to handle heat-sensitive plastics as well.
The Lindner Group headquartered at Spittal/Austria was established in 1948 as a mechanical engineering and equipment construction company and has evolved into a competent supplier of shredding technology for industrial applications. Employing around 200 people, the Lindner Group specializes in the development, manufacture and sales of complete lines and machines for producing alternative fuels.
Its sales and customer support company Lindner reSource GmbH, based in Grossbottwar/Germany, represents the Group's plastic and recycling activities. The company supplies high-powered single-shaft shredders with throughputs from 300 to 10,000 kg/h to industrial customers.
Source: www.konsens.de