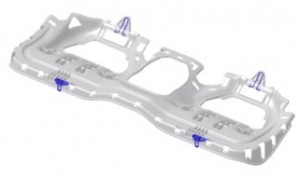 Plastic has replaced spot-welded steel wire in a rear seat-cushion frame used in the 2012 Kia Motor K9, and in the process brings about a 25% weight reduction and 10% cost reduction. The frame employs a long glass-fiber reinforced (pellet length is 13-15 mm) polypropylene (PP) grade with high-crystallinity PP as the base resin.
The folding composite seat back comes in two versions, including a split version (see photo). The one-piece seat back weighs 2678g and measures 1380 x 540 mm. The split version comprises two parts of 1238g and 1732g, respectively. Steel bracket and wire components add several hundred grams to each part. The front bracket (mounting wire) is insert molded while the rear bracket is post-assembled after injection molding.
The parts are reportedly the first using the injection molding process to realize a completely flat rear floor structure. Optimized structure and material properties design were the keys to achieving this. Completely flat rear floor structures are desirable in rear wheel-driven sedan needs due to power train issues.
Another advantage of the rigid rear seat cushion frame is passenger protection. During the initial stages of a frontal collision, passenger bodies tend to move down towards the ground, resulting in seat belts engaging in the stomach area and potentially damaging internal organs. This is known as the submarine effect, akin to a submarine diving into the sea from the surface. "The optimized structure of the new seat cushion frame supports the passenger in the right position so that the seat belt starts to engage in the pelvic region," says Inhoo Lee, a senior research engineer at Kia, an automaker that is part of Hyundai Motor (Seoul, Korea)
They are molded in 1200- and 1500-ton clamp force injection presses in cycle time of around 50 seconds. Cost reductions of $2 per seat back are realized through elimination of the spot welding and wire folding processes. Further, Kia is working on ways to achieve moldings of the two components for the split seat in a single tool in order to further reduce cycle time and cost. "Due to the size differences between the 6:4 sides, controlling the flow balance proved difficult so we opted for separate molds," says Jonghyun Kim, another senior research engineer at Kia.
With such a large projected area, minimizing warpage was a key component of development according to Kim. "To prevent warpage, pressure and temperature sensors were employed as well as injection parameter monitoring to minimize sharp (abrupt) peaks. Significant mold flow analysis was also carried out in order to optimize injection gate locations and thus minimize part distortion and avoid weld lines in stress bearing areas.
The seat is one of the heaviest parts in the car and this application can also be applied rear to seat back frame. By combining this technique with woven type reinforcements, Kia plans to apply this PP composite technology to further seat weight reduction programs.