PAWCATUCK, CT USA – (April 1, 2014) – Lehvoss North America, a subsidiary of Lehmann & Voss, announces the introduction of LUVOCOM® SCF, a new generation of high strength, impact resistant high-performance compounds for structural metal replacement. Based on polymers such as PA 6, PA 66, PA 46, and PPA, and reinforced with carbon fibers, the LUVOCOM SCF product range delivers outstanding performance compared to traditional carbon fiber compounds.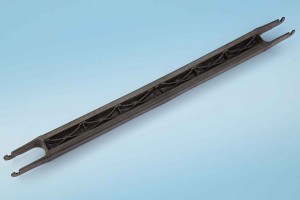 According John Vermeulen, Business Development Manager at Lehvoss North America, "The LUVOCOM SCF product line was developed in response to market demand for lighter and stronger materials offering improved performance and overall cost reductions. Increases in strength and stiffness, however, often compromise toughness. Our new carbon fiber technology pushes the performance boundaries of traditional injection molding engineering compounds even higher, thereby offering new design possibilities for lighter, stronger components."
When compared to traditional carbon fiber reinforced polymers, LUVOCOM SCF has higher tensile strength (+50%) and stiffness (+15%) as well as improved impact resistance (+90%). When compared to glass and traditional carbon fiber compounds, LUVOCOM SCF has outstanding mechanical properties. "Because of its lower specific gravity, it is lighter than metal or glass reinforced polymers," said Vermeulen. "Plus, it has good tribological properties, is electrically conductive, and has low coefficient of thermal expansion (CTE)."
LUVOCOM SCF is processable on standard injection molding machines. "It is important to maintain the excellent product properties by a well-adjusted molding process," said Vermeulen. "This means sufficient pressures, optimized injection speeds, and well-dimensioned gates to avoid excessive shear."
LUVOCOM SCF high performance compounds offer precisely tuned material properties for a wide range of engineered components in automotive, oil and gas, and industrial markets. Specific applications include dynamic parts in pumps and compressors such as vanes, impellers, thrust washers, and seals. "These new compounds offer reductions in weight and associated energy savings," said Vermeulen.
Lehvoss provides support with material selection, part design, and processing. LUVOCOM SCF compounds based on other polymers, lubricants, and different fiber percentages, are tailored to the customer's exact requirements. For more information about the new LUVOCOM SCF product line, please call (855) 681-3226 or visit www.luvocom.com.