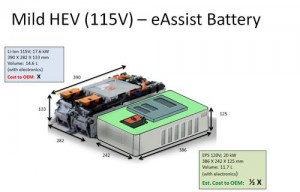 With disenchantment in lithium-ion technology on the rise, lead-acid batteries may be poised to play a bigger role in green vehicles. Automakers are said to be taking a closer look at lead-acid, in hopes that the century-old chemistry could serve in future vehicles that employ mild hybrid and start-stop powertrains. "When I conceived of this company two-and-a-half years ago, the interest in lead-acid technology was zero," Subhash Dhar, founder and CEO of Energy Power Systems (EPS), maker of a new lead-acid battery chemistry, told Design News. "Today, on a one-to-10 scale, it's a seven."
Several major automakers are now said to be looking at EPS's version of lead-acid, mainly because it could offer a huge cost advantage, without concerns of overheating. By today's measures, lead-acid's cost is approximately one-seventh that of a liquid-cooled lithium-ion battery, Dhar told us. And its safety performance is well known and widely accepted.
"There is huge dissatisfaction with lithium-ion right now," said Dhar, who co-developed the nickel-metal hydride battery for the Toyota Prius in the 1990s. "Years ago, we in the battery industry promised that lithium-ion would get down to $250/kWh. But here we are, 10 years later, and the number is still north of $700/kWh."
Dhar, whose company makes an enhanced lead-acid chemistry, believes his product could be especially important in start-stop vehicles, which turn off their engines and restart them at traffic lights and stop signs as a means of reducing fuel consumption. There, the energy density of the battery is relatively unimportant (because the vehicle runs on gasoline), while power density and cost are critical. As a result, lead-acid could be a good fit for mild and micro-hybrids. "In the first-generation start-stop systems, cost is going to be the big issue," Rob Martin, director of engine electrical engineering for Denso International America, which makes start-stop systems, told us. "So lead-acid makes sense there."
If lead-acid does make successful in-roads in such applications, it could be a big step for the old technology. By some estimates, start-stop could be incorporated in 50 percent of vehicles by 2020. And some start-stop cars could employ two batteries apiece.
In contrast, many experts are forecasting poor sales ahead for pure electric cars, virtually all of which use lithium-ion. "The pure electric car is now almost universally seen as a bit player," David Cole, chairman emeritus of The Center for Automotive Research (CAR), told Design News. "The heads of the big car companies see it as a technology for small vehicles, delivery vans, and a few mega-cost cars, whereas, mild hybrids and start-stop cars will be everywhere."
Lack of demand is already causing problems for some lithium-ion battery manufacturers. In recent years, two lithium-ion battery makers — A123 Systems and Ener1 — have filed for bankruptcy protection. And in February, a US Department of Energy investigation discovered that idle employees of LG Chem Ltd. were playing board games, watching movies, and volunteering at local non-profit organizations during work hours, after the company took more than $150 million in federal funds to help build its battery cell manufacturing plant. The battery manufacturer was subsequently asked to repay $842,000 in taxpayer funds.
Experts say the situation has been getting worse for lithium-ion, following the massive public attention of overheating incidents on Boeing's 787 Dreamliner. "The glamour has definitely faded for lithium," Cole told us. "The Boeing situation was the crowning blow."
To be sure, lithium-ion will continue to play a role. Ford Motor Co. announced late last year that all its new hybrids would migrate to lithium-ion. And Pike Research declared earlier this year that the emergence of plug-in hybrids would boost lithium-ion sales over the next few years. "Sales of lithium-ion batteries will be better than they have been," analyst Dave Hurst of Pike Research told us. "But they still won't be very good."
The question now is how much of the hybrid market will still belong to lithium-ion. Most industry analysts still expect plug-in hybrids to be the province of lithium-ion batteries. However, the low end of the hybrid market — mild hybrids and start-stop micro-hybrids — will be a mix, with lead-acid, nickel-metal hydride, and lithium-ion grabbing chunks of the market.
"Lithium-ion is still a very solid player," Cole said. "But now we're entering a more realistic period with respect to batteries. The hype is over. The cost is going to have to come down now."
Source: http://www.designnews.com/author.asp?section_id=1366&itc=dn_analysis_element&doc_id=262198&page_number=1