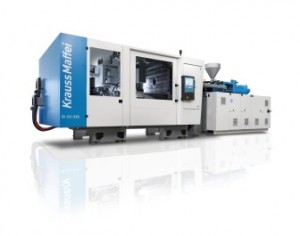 At the recently concluded Plastimagen, held from March 12-15 in Mexico City, Mexico, KraussMaffei presented its new GX series in live demonstration. A GX 450-4300 was seen producing disposable spoons with a 32-cavity mold. The machine is suited to many different injection molding processes, in particular for the automotive and packaging/logistics industries.
"Our customers are primarily interested in the modular automation cells with linear and industrial robots in different configurations, as well as in the efficient variants of the GX series which are ideally suited to the production of free falling packaging/logistics parts and applications in the consumer goods sector," said Hector Moreno, CEO of the subsidiary of KraussMaffei in Mexico. "The technology supplied by KraussMaffei precisely matches the requirements of our customers on the Mexican market."
KraussMaffei also presented an all-electric AX 180-750 and a CX 80-750, both equipped with a linear robot.
Source: http://www.adsalecprj.com/Publicity/MarketNews/lang-eng/article-67003391/Article.aspx