KraussMaffei Berstorff has delivered another complete direct extrusion line to Hamza Industry Co. in Cairo, Egypt, where it will produce highly filled three-layer sewage pipes made of polypropylene (PP).
"Hamza is extremely impressed by the quality of our machines and the process engineering expertise of our company," said Andreas Kessler, General Sales Manager at KraussMaffei Berstorff. "Hamza therefore again made a clear decision in accepting our offer when it was necessary to extend its production capacities."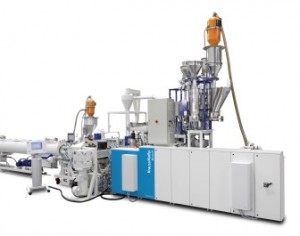 As said, Hamza has been using KraussMaffei Berstorff's direct extrusion line and other pipe extrusion equipment to produce pipes for several years.
The scope of the order comprises a KMG 81-40/R co-rotating twin-screw extruder as the main extruder for the filled middle layer, a KME 38-30 B/R co-extruder for the thin internal and external layers, the KM-RKW 73 three-layer pipe head and downstream units for calibration and cooling.
The system processes highly filled PP into pipes with a diameter ranging between 20-250mm and at a maximum output rate of 700kg/h/ line. The pipe components are compounded using a special material weighing system and are extruded simultaneously as the finished pipe in the direct extrusion process.
Direct extrusion is the combination of compounding and processing in one step. This technology offers significant advantages, for example potential savings on material
costs, energy consumption and handling costs, explains KraussMaffei Berstorff. The single-stage process also protects the pipe material since it only has to be melted once. Pipes containing a high proportion of minerals are used especially in building construction because they have good sound-insulating properties.
Source:  www.adsalecprj.com/Publicity/MarketNews/lang-eng/article-67006848/Article.aspx