KraussMaffei has added two additional clamp sizes to its MX series large-sized injection molding machine that are produced locally in China.
"We are receiving more inquiries requesting higher clamping forces, especially from the automotive industry," said Jörg Wittgrebe, Sales Director China at KraussMaffei.
With the new MX 2700 and MX 3200, the company is able to offer injection molding solutions with clamping forces of 27,000kN and 32,000kN respectively.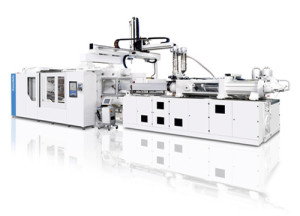 Not limited to automotive but also for packaging and logistics industries, Christian Blatt, CEO of KraussMaffei Group China, said the MX series is well accepted by Asian customers and had a promising start in 2015.
A major characteristic of the MX series is the hydro mechanical two-platen clamping unit developed by KraussMaffei. Force flow-optimized sliding shoes in combination with guided tie bars guarantee parallel clamping movements and permanent mold protection.
While reluctant to go into details about KraussMaffei' growth in China the past year, Mr Blatt mentioned it was "far above the 7% GDP average in China" and in "double digit figures".
The automotive and the packaging sectors are enjoying huge growth in China, he said, adding that there is also strong demand for automation technology.
"Right now, I think roughly 50% of our Chinese customers are looking for automated solutions in addition to the injection molding machines," commented Mr Blatt.
With all the buzz about the Industry 4.0 concept, he revealed that there is an ongoing project with a global company.
"For the injection molding sector, the Industry 4.0 concept will enable the machines to be inter-connected and linked up with infrastructures of the production plant automatically, reducing labor demand and improving control of the entire manufacturing process," Mr Blatt explained.
Website:   www.adsalecprj.com