Kaufmann: Varysoft for quality parts with high visual and feel appeal
Busslingen, October 2013. – Georg Kaufmann Formenbau AG, Busslingen/Switzerland, has now improved its Varysoft process for the production of soft-touch parts such that their surfaces are even more pleasant and softer and feature a much better grip.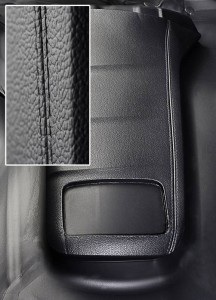 The nucleus of this improved process is a newly developed multi-function mould that combines the three functions of injection moulding, vacuum forming/embossing and foam moulding. It is currently being used for the production of the right-hand side of a dashboard for the Hyundai Kia Motor Company and will be demonstrated at K 2013 (Düsseldorf, 16th to 23rd October 2013) on the exhibition stand of Engel/Austria (Hall 15, Stand B42 and C58) in conjunction with a duo 3550/650 pico combi M injection moulding machine.
This improved Varysoft technology enables the production of a three-layer part comprising a sub-structure, a layer of foam and a layer of decorative material. The multifunction mould
imparts the grain effect to the decorative material during the vacuum forming operation

sets the thickness of polyurethane (PUR) foam exactly as required in the various zones of the moulded part.
The dashboard thus produced is distinguished by its extremely tactile quality, appealing appearance, low weight and low production costs.
The multi-function mould for the improved Varysoft process is equipped with a rotating platen and works in two stages. In the first stage, the dashboard sub-structure is injection moulded in the stationary mould half, while at the same time the preheated decorative material – in this case a thermoplastic polyolefin (TPO) film – is placed in the moving mould half and preformed.
This vacuum forming operation gives the dashboard its surface geometry and creates both the transition zones for different thicknesses of foam and the openings for instruments and other fittings. The desired grain effect and the imitation decorative stitching is also embossed in the originally smooth TPO film at this stage. Finally, the PUR foam is injected into the space between the sub-structure and the film. It is this layer of foam that imparts to the dashboard its appealing soft-touch effect.
Source: www.konsens.de/44.html?&L=1&tx_ttnews%5Btt_news%5D=1027&cHash=d7d2e0d03f9d59e1b1433abb8d887228