After tracking an upward trend since March of this year, the European PP market witnessed some decreases during June, according to ChemOrbis. For July, further softening is on the way as initial prices and sell ideas for PP are emerging mainly lower in line with the propylene contracts, which settled down €20/ton from June towards the end of last week.
A West European producer expressed their July sell ideas with decreases of €20/ton from last month in line with the monomer drop after settling their June PP contracts with increases of €30-40/ton. A producer source said that they will discuss their July pricing policy this week and did not exclude the possibility of issuing larger discounts unless demand is supportive.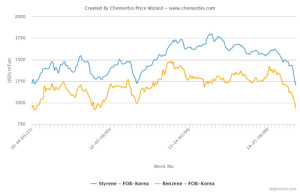 In Germany, a distributor started giving initial July offers with discounts of €20/ton from June for West European PP, commenting, "We are not planning to concede to reductions beyond the propylene drop as our supplier's availability is still short." Another distributor also lowered his PP prices by €20/ton for July in line with the monomer drop. "PP availability is better compared to PE. We expect to see slow demand this month," the seller said.
A different distributor in Belgium said, "We are yet to contact our supplier regarding their July offers. However, PP availability is still limited in West Europe so we think that our supplier might maintain their prices or limit their discounts to the €20/ton drop in the propylene settlements."
In Italy, a distributor revealed his July sell ideas with decreases of €40/ton for West European PP. The seller said that he is planning to issue larger discounts than the propylene drop as his prices already stood at the high ends of the overall spot ranges as per ChemOrbis pricing service. Meanwhile, an agent of another West European producer did not exclude the possibility of rollovers and commented that converters are holding low stocks. A converter reported making some purchases with further discounts for late June. The buyer expects to see decreases of €20/ton in July PP prices.
In production news, LyondellBasell restarted their PP plant at Brindisi, Italy, market sources reported last week. However, the company's force majeure, declared in mid-June, remains in place for now. Meanwhile, around three PP plants across Europe are still offline for now, but their restart dates might be soon considering that Versalis and BP Refining & Petrochemicals were expected to restart their crackers in end-June in addition to the Naphtachimie cracker at Lavera, France.