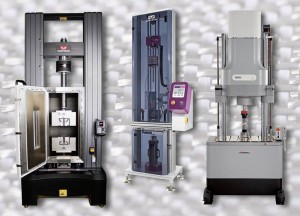 High Wycombe, UK – February 2013 – At JEC Europe from 12 to 14 March 2013 in Paris, Instron will be showcasing at its booth C55 advanced testing systems and components for determining the mechanical properties of composite materials and fiber composite parts. Providing high precision, measuring accuracy, and repeatability of test procedures, the systems are ideally suited to the challenges presented by these materials, with their unique strength to weight ratio, low strain at failure, high stiffness, and pronounced fiber directionality. Thanks to their versatile capabilities combined with their insensitivity to contaminations resulting from debris projected during specimen failure, these systems provide highly reliable data from tensile, compression, shear, fatigue and impact tests.
As an example of its wide portfolio of testing systems for the composites industry, Instron is presenting at this year's JEC Europe a floor-standing model 5980 universal test system specially equipped for performing measurements on composites. With nominal load capacities up to 600 kN and a sturdy, high-stiffness frame, these systems are an excellent choice for testing carbon or glass fiber reinforced plastic materials and aeronautical or automotive structures. They can be combined with Instron's newly developed manual wedge grips, providing repeatable, high precision, reliable alignment of specimens according to dance with the stringent requirements of NADCAP AC7101 and AC7122 guidelines-1.
In addition to these new grips, visitors to the show will be able to see Instron's new AutoX750 Automatic Contacting Extensometer, Which is accurately aligned and attached to the specimen without operator intervention and with minimum force, and Therefore contributes towards faster, more reliable, and more accurate routine testing procedures. Instron at JEC 2013 will also be presenting its NADCAP compliance services, processes Aimed at assisting customers with the optimization of their systems and testing.
For dynamic and fatigue testing of composites, Instron will be exhibiting at ElectroPuls ® E10000 testing system with a nominal force capacity up to ± 10 kN, both designed for static testing at low speeds and high-frequency dynamic testing at several hundred hertz. With its patented, oil-free linear motor technology the system specifically supports clean working conditions. The range of exhibits is rounded off with a 9300 series Instron ® CEAST drop tower equipped with a special fixture for performing compression-after-impact tests (CAI).Beyond this, on Thursday, March 14th at 11.00am, Instron will give a talk on "Mechanical Testing of Composites" as part of the accompanying Technical Sales Presentations Program (Stand X18).
Source..http://www.konsens.de