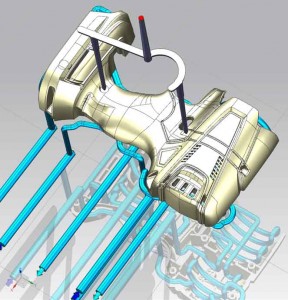 Aachen, August 29, 2013 – Today innovative technologies support users in nearly all branches of the injection molding industry. They guarantee a balance between cost management, quality and efficiency in every stage of the product-, tool- and process development.
SimpaTec, competent partner for the effective injection molding component and process optimization, invites interested persons to the "Molding Innovation Day" on September 19, 2013 in Ulm, Germany. Target of the event is to exchange and discuss knowledge, ideas and expertise on innovative solutions for the plastics processing industry.
A special focus during the one-day event is on innovative processes like MuCell, GAIM, WAIM, prototype technologies, conformal tempering as well as practical case studies of us-ing special materials. Approached and invited are all in "Innovative molding technologies" interested persons. The conference language is German.
Read more information : www.simpatec.com