According to ChemOrbis, players in Southeast Asia report that major overseas producers have begun to announce their initial June PP offers with either rollovers or modest reductions in the face of resistance from buyers as well as weakening prices in the nearby Chinese market.
An agent of a Saudi producer said that their supplier lowered their June prices by $10-20/ton for homo-PP and $30/ton for PP block copolymer. "Buyers are showing some resistance even after our price reductions and most converters are keeping to the sidelines waiting to hear offers from other overseas suppliers before purchasing," the trader commented. A trader based in Vietnam stated, "We have received new offers from Chinese, South Korean and Indian producers with reductions from the prior month. We are not planning to make fresh purchases for now as we feel that the market may still have some room to move lower."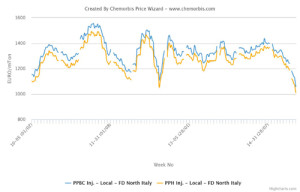 A trader in the Philippines reported receiving new June offers from a Saudi major with $30-40/ton reductions from their most recent May prices as per ChemOrbis pricing service. "We find the producer's offers to be too high to accept even after their price cut and we believe that PP prices still have some room to decline before the market stabilizes as demand is not very encouraging," the trader added. A converter based in Indonesia said that they received a raffia offer from a Southeast Asian producer with a $10/ton reduction from May. "We are waiting to receive some previously purchased cargoes and not planning to replenish material for now. We believe that the current offers are too high and that sellers will be willing to give further discounts in the days ahead," the buyer stated.
Meanwhile, a source from an Indian producer said that they maintained their prices for homo-PP while concluding some deals at the lower end of their offer range. "PP prices are facing some downward pressure owing to lackluster demand. We may revise our prices later in the week depending on developments," a producer source reported. A Vietnamese trader said that they received an offer from a Saudi supplier with an increase from the prior week. "We do not find this offer to be attractive as we can locate more attractively-priced cargoes in the local market," the trader added.