According to data from ChemOrbis Price Index, import PVC prices in India saw their lowest levels in five years' time owing to persistently sluggish demand which is mostly triggered by plunging crude oil and upstream costs as per the pricing service of ChemOrbis. Players report that most buyers in India are still maintaining their stance on the sidelines as they expect to see lower prices in the market over the short term while many of them are waiting to hear new January PVC prices from a major Taiwanese producer.
There are some buyers who even think that import PVC prices may break the $800/ton threshold, attributing their bearish expectations on the fact that buyers may prefer to postpone their purchases for another month until their inventories become short.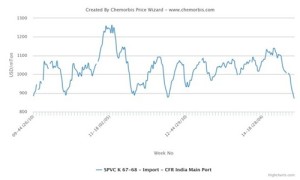 Data from ChemOrbis Price Index shows that import PVC prices on a CIF India basis have lost around $215/ton in the past three months. Meanwhile, the gap between import PVC prices in India and Southeast Asia has widened after trading almost at par for two weeks in a row. PVC prices on a CIF SEA basis are currently trading at a discount of around $30/ton against the Indian market.
"Prices continue to decrease in India while we think that the market may reach the bottom level in January. We are now waiting to hear new January prices from a Taiwanese major," an Indian converter stated. A trader commented, "Prices are likely to remain on the softer side unless crude oil prices rebound. Buyers are sticking to the sidelines nowadays as they are expecting to see lower prices."
According to ChemOrbis, PVC players are mostly attributing the decreases in import prices to softening upstream markets. Following OPEC's decision to maintain their daily production ceiling at 30 million barrels, crude oil prices have extended their decreases, tumbling to their lowest levels in the past five years. In line with plunging crude oil costs, spot naphtha and ethylene prices have also posted sizeable decreases recently. Spot naphtha prices in Asia sank to their lowest levels since October 2009 while spot ethylene costs in the region also hit fresh lows, touching their lowest levels since July 2012.