The combination of the ROMER Absolute Arm with QUINDOS measurement software is a new leader in user-friendly gear measurement.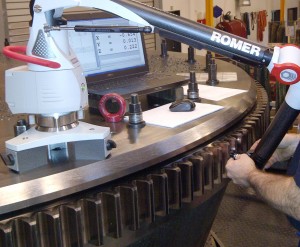 With the new ROMER Gear Measurement System, Hexagon Metrology has created a new portable 3D gear measurement solution. The ROMER Absolute Arm is combined with QUINDOS, the leading software for the analysis of special geometries, in order to measure complex parts usually inspected on complex metrology devices. This solution is capable of measuring internal and external gears of cylindrical, straight or helical shape – also with unknown parameters.
The ROMER Absolute Arm is a portable CMM with industry-proven mobility, stability, low weight and performance. Its measurement volume from 1.5 up to 4.5 metres makes it possible to measure even large gears without the logistical difficulty of having to move them.With QUINDOS, Hexagon Metrology offers an analysis tool for different types of coordinate measuring machines. The database structure of the software contains all measurement data, making it available for further processing and reporting later.
A host of special functions improves the efficiency of measuring processes. Furthermore, QUINDOS is certified by the German national metrology institute PTB.For gear measurement tasks, the QUINDOS Unknown Gear package makes it possible to calculate all relevant gear parameters by measuring only one single gear tooth. This is especially useful for the re-manufacturing of broken gears.
Hexagon Metrology presents the ROMER Gear Measurement Solution for the first time at Control – the international trade fair for quality assurance – in Stuttgart from May 14th to 17th, 2013 on booth 5302/hall 5.
About Hexagon Metrology
Hexagon Metrology offers a comprehensive range of products and services for all industrial metrology applications in sectors such as automotive, aerospace, energy and medical. We support our customers with actionable measurement information along the complete life cycle of a product – from development and design to production, assembly and final inspection.
With more than 20 production facilities and 70 Precision Centers for service and demonstrations, and a network of over 100 distribution partners on five continents, we empower our customers to fully control their manufacturing processes, enhancing the quality of products and increasing efficiency in manufacturing plants around the world. For more information, visit www.hexagonmetrology.com.