The new software version further enhances the application of Hexagon Metrology's White Light Measurement Solutions.
Hexagon Metrology announced today CoreView 7.0, the new version of Hexagon Metrology's White Light Suite. CoreView 7.0 provides enhanced performance, new functionality and ease of use.
The new software version provides an option of "on the fly" capability to generate high quality data in the STL format fast and seamlessly. The new functionality is based on a Hexagon proprietary STL engine. STL models are created in parallel to the measurement process.
A new Hexagon reporting module is included with modern GUI and ability to generate and edit report templates as well as adding comments on reports.
New functionality to support market and customers' requirements was added such as improved surface analysis coverage, statistical analysis on group of features, tornado lines along an axis, wireframe representation mode, fasteners measurement and others.
CoreView 7.0 Improves the ease of use with the ability to do rapid calibration of the system and undo of critical function. In addition new multi-tasking user interface was introduced for the Automatic Measurement application.CoreView 7.0 is available immediately and from now on comes with all Hexagon Metrology White Light Measurement Solutions.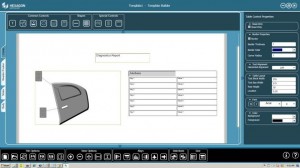 About Hexagon Metrology
Hexagon Metrology offers a comprehensive range of products and services for all industrial metrology applications in sectors such as automotive, aerospace, energy and medical. We support our customers with actionable measurement information along the complete life cycle of a product – from development and design to production, assembly and final inspection.
With more than 20 production facilities and 70 Precision Centers for service and demonstrations, and a network of over 100 distribution partners on five continents, we empower our customers to fully control their manufacturing processes, enhancing the quality of products and increasing efficiency in manufacturing plants around the world. For more information, visit  www.hexagonmetrology.com.
Hexagon Metrology is part of Hexagon (Nordic exchange: HEXA B). Hexagon is a leading global provider of design, measurement and visualisation technologies that enable customers to design, measure and position objects, and process and present data.