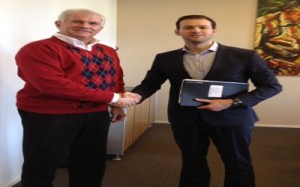 Hexagon Metrology announces today the acquisition of long-termsales partner KOMPAKT-GÉP Kft. in Hungary. The partners look back on 25 years of cooperation. As of now the business will be handled through the formed legal entity, Hexagon Metrology Kft.Through the direct presence Hexagon Metrology will strengthen the service and sales in Hungary as well as better market the full range of the group's metrology product offerings.
"After many years of fruitful collaboration with Hexagon Metrology we are very proud and happy to become a part of this metrology family", said FerencBalogh, the founder of KOMPAKT-GÉP Kft. who is now appointed as General Manager for Hexagon Metrology Hungary. "We are pleased to bring together our different activities in Hungary under one organization managed by the experienced FerencBalogh", said HolgerFritze, Regional Manager Hexagon Metrology Central Europe.
Hexagon Metrology Hungary will be part of the Central European regional organization, led by HolgerFritze,and will be located in Budapest. At the same place also a Precision Center will be run. At the new location customers will have the chance to explorea wide range of the Hexagon Metrology product portfolio and to participate in trainings and workshops. Hexagon Metrology Hungary will be responsible for all sales and services in the country as well as supporting major key accounts and established distributors.
Picture "Hexagon Metrology Hungary":
General Manager FerencBalogh (left) together with MostaphaBouyrakhen (right) representing Hexagon Metrology Central Europe.
About Hexagon Metrology
Hexagon Metrology offers a comprehensive range of products and services for all industrial metrology applications in sectors such as automotive, aerospace, energy and medical. We support our customers with actionable measurement information along the complete life cycle of a product – from development and design to production, assembly and final inspection.
With more than 20 production facilities and 70 Precision Centers for service and demonstrations, and a network of over 100 distribution partners on five continents, we empower our customers to fully control their manufacturing processes, enhancing the quality of products and increasing efficiency in manufacturing plants around the world.
For more information, visit www.hexagonmetrology.com.