The highly innovative 'Airbus A350 XWB Composite Rear Spar', developed by GKN Aerospace, has been announced as the winner of the Horners Award for Plastics Design and Innovation 2013.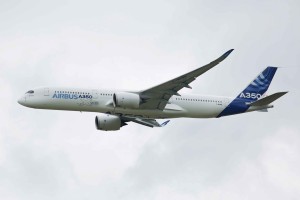 GKN Aerospace has developed automated processes for its A350 XWB composite spar and fixed trailing edge assembly programme. The application of state-of-the-art automated fibre placement (AFP) technology, unique to the UK, has allowed GKN Aerospace to produce cost effective repeatable lightweight components with more complex and bespoke geometries.
The prestigious Horners Award, established in 1947, is thought to be the oldest extant award for plastics in the world and is a cornerstone of the Horners' many activities that support design, innovation and education in the plastics industry.
This year the Horners Award Committee was again impressed by the level of entries covering innovative products and processes. The Committee awarded the Horners' Runner-Up Award to Hozelock for their 'Growbag Waterer', a device that keeps a grow bag watered for up to 2 weeks at a time. The grow bag is placed on a reservoir that incorporates specially designed spikes that pierce the bottom of the grow bag. One of its greatest benefits it that it prevents water wastage and helps people produce local grown food with improved success.
The judges were also delighted to nominate three other products for the Highly Commended Certificate as follows: 'The Chest Drain Trainer' by Limbs & Things Ltd, Emerald Automotive's 'Thermoplastic Composite Bodied Electric Vehicle' and 'Temporary Industrial Roadway' designed by Big Bear Plastics.The Horners Award Judging Panel included Jack Bunyer, Upper Warden of the Horners Company, Peter Davis, Director General of the British Plastics Federation, David Williams, Past Master of the Company and Chairman of the Horners Awards Committee.
For further information contact Kim Hawksworth at the British Plastics Federation on 0207 457 5007 or email [email protected]