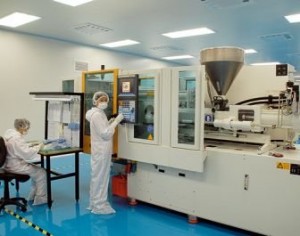 Gerresheimer Medical Plastic Systems Dongguan Co, the branch of Gerresheimer Group in China, has passed US Food and Drug Administration (FDA) inspection for production of a new inhaler. Bernd Stenzel, Director, Quality Management, Gerresheimer Regensburg GmbH, is proud of the result, "The inspection shows that our efforts over the past few years to develop a robust management system have been successful and that we can demonstrate compliance with all applicable rules and standards."
The inspection of the USFDA took place from August 14-17. The reason for this inspection was the new drug application (NDA) from a customer, which is preparing the market approval for a new inhaler plus drug at the American Food and Drug Agency, Gerresheimer explains. As part of the pre-approval inspection (PAI) of the Gerresheimer facility in Dongguan, the management system and the entire product production was inspected from incoming to outgoing goods. This includes the purchasing of rubber and metal parts, the injection molding process, the assembly and testing, the laser printing and the tamper-resistant sealing processes.
The injection molding, assembly, inspection, and tamper-resistant sealing processes take place in a clean room of the ISO class 8. Gerresheimer will participate at Medtec China 2012, to be held in Shanghai from September 26-27.
Source : http://www.adsalecprj.com/Publicity/MarketNews/lang-eng/article-127185/Article.aspx