The plastics production capacity in the GCC grew 6 per cent to 25.5 million tonnes in 2014 and is projected to further increase 25 per cent to 33.8 million tonnes by 2020, according to a report.
The GCC manufacturers are also awaiting a significant rise in the product portfolio, which is set to go up from the current 13 to nearly 30 in the following years in order to cater to the growing demand from sectors like aviation, transport and food packaging, the Gulf Petrochemicals and Chemicals Association (GPCA) report was quoted as saying.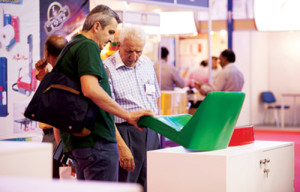 The 3rd Plastivision Arabia 2016, to be held in Sharjah next February, will provide regional manufactures instant access to new machinery, technologies and materials, and insights into improving production and personnel efficiencies and reducing costs.
Rituraj Gupta, president, All India Plastic Manufacturers Association, said: "The regional plastics industry is in the midst of sustained growth focusing mainly on quality, efficiency and environmental concerns. The industry will have to rely on technical innovations to produce a more diverse product range and achieve sustainable growth."
Expo Centre Sharjah, in association with All India Plastics Manufacturers Association, is organising and hosting the 3rd Plastivision Arabia International plastics exhibition and conference from February 22 to 25 in 2016.
Domestic demand for plastics is growing fast in the GCC. The per capita consumption of plastics is estimated at 39 kg in the region, 33 per cent higher than the world average.
Experts point out that at the core of the industry's growth is a growing population, rising construction projects and bigger penetration of pre-packed foods, prompting region's plastics producers to look at acquiring new machinery and technology to keep pace with demand.
A rising number of manufacturing units is also generating demand for materials and machinery. In 1990, the number of plastics factories in the GCC stood at 326, in 2007 it was 1,223 and by 2012-13, it rose to 7,000. The figure is on the rise with new plastic processing units being set up in the region owing to easy availability of feedstock.
Saudi Arabia and the UAE are also major exporters of plastics, taking advantage of their location that is in close proximity to areas that are experiencing economic growth and population increase.
Saif Al Midfa, CEO of Expo Centre Sharjah, said: "Expo Centre Sharjah will continue its partnership with All India Plastics Manufacturers Association, the oldest and the largest apex body of the plastic industry in India, for the upcoming Plastivision Arabia. Apart from sharing their expertise, this will facilitate the participation of plastic processing machinery manufacturers from India."
Plastivision Arabia 2016 will be held along with Arabia Mold, in association Demat, the organiser of world-renowned EuroMold, the world's leading fair for mould-making & tooling, design and application development.
The 2nd Print Pack Arabia, which is jointly organised by Expo Centre Sharjah and the Indian Printing, Packaging and Allied Machinery Manufacturers' Association (IPAMA), will also be held concurrently.
Website: www.tradearabia.com