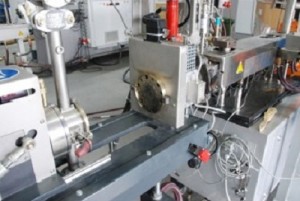 Austrian-based Econ GmbH introduces its new underwater pelletizer EUP 150 C-Line to CHINAPLAS visitors. The specific attribute of the Econ underwater pelletizing system is the patented heat separation between the nozzle plate and the water chamber. The ECON design features a minimum contact surface area between the extrusion nozzles and the die plate of the pelletizing chamber.
Since less heat is dissipated into the cooling water, there is no need to overheat the nozzle manifold. The processed plastics are less thermally stressed. Temperature sensitive types of plastics and masterbatches can be processed smoothly.
The stable and easily controllable temperature in the nozzle system allows a production start at the button. Likewise, there is little risk that individual or multiple nozzles are "freezing" during production.
The melt temperature and melt pressure in the nozzles can be kept stable in a narrow tolerance band. Thus granules produced are very even in size and without dust content. The entire system is designed to be compact and easy to use.
Source: http://www.adsalecprj.com/Publicity/MarketNews/lang-eng/article-67004045/Article.aspx