Royal DSM, the global Life Sciences and Material Sciences company, confirms top electronics companies are choosing its high performance polyamides for the latest generation of synchronous dynamic random-access memory (SDRAM) connectors. These "DDR4" connectors demand more than ever from thermoplastics in terms of thermal and mechanical performance. DSM will be showing DDR4 connectors in its Stanyl® polyamide 46 and Stanyl® ForTii™ polyamide 4T on its stand at Chinaplas (Booth N1D41), which takes place in Shanghai on April 23-26. Company representatives will also be describing their latest work in this area at a technical seminar during the show (April 24th at 14:40).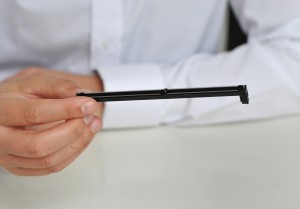 DDR4 is the latest type of DRAM now coming onto the market. It has data transfer rates up to twice as high as DDR3, the previous generation of memory connectors. Furthermore, DDR4 will provide computers with significantly improved power management and increased speed and performance. At the same time, the technology puts higher demands on materials used to house and insulate the memory modules and sockets.
Connector makers are choosing Stanyl and Stanyl ForTii for several reasons for the DDR4 housing. To achieve good co-planarity of a connector on the printed circuit board (PCB), which is normally made in FR4 glass fiber reinforced epoxy laminate, there has to be a close match in CLTE (coefficient of linear thermal expansion) between the FR4 and the connector housing material; Stanyl and Stanyl ForTii both provide this. In addition, these high performance polyamides have an ideal combination of high stiffness and high deflection temperature under load (DTUL). As a result, warpage of Stanyl and Stanyl ForTii connectors after reflow soldering to PCBs is better than connectors made from materials such as liquid crystal plastic (LCP) and polyphthalamide (PPA), which have occasionally been used in DDR3 connectors.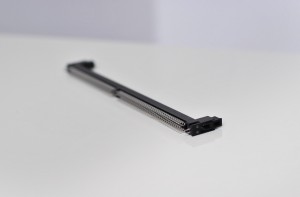 Finally, the pin spacing of 0.85mm in DDR4 connectors—which is 0.15 mm less than in DDR3 connectors—poses a real challenge in terms of pin retention forces and weld line strength. Connectors in Stanyl and Stanyl ForTii outperform all LCPs in pin retention force, maintaining the required level of at least 0.3 kgf/pin after board assembly with reflow soldering with an excellent weld line strength in general known for polyamides.
A majority of the connector makers are already using Stanyl ForTii for DDR4 connectors. LOTES Co., Ltd. in Keelung, Taiwan chose DSM's Stanyl ForTii ahead of LCPs and PPAs, which it also tested for the application. Bill Lee, director of Product Design at LOTES, says: "Among the outstanding properties of Stanyl ForTii that we value are its very low warpage after the reflow soldering process, its outstanding toughness and stiffness, excellent pin retention forces and the freedom it gives us to make components in different colors for our customers. Stanyl ForTii is also our material of choice for other SMT connectors."
DSM will be discussing the advantages of Stanyl and Stanyl ForTii in high performance electronic connectors on Stand N1D41 at Chinaplas and at a technical seminar during the show. It will also make a presentation at the 5th International SKZ (Süd Deutsche Kunststoff Zentrum) Conference "Flame Retardants: Chinese and International Markets Requirements, Challenges and Innovations," which takes place just before Chinaplas in Shanghai, on 22 April at 10:50h.
More information can be found at www.dsm.com