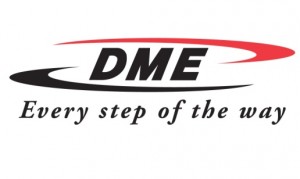 Madison Heights, Mich.—DME Company, a leading provider of mold technologies to the plastics processing industry, is investing millions of dollars to maximize precision and quality for its products, with the recent purchase of three new machining systems and plans to buy six more new machines later this year.
The new machines include:
Two vertical CNC machining centers – today's most advanced tooling technology.
A Tarus Gun Drill – a multiple-spindle machine with large plate size capabilities, offering DME greater flexibility by performing multiple machining processes simultaneously.
In addition, DME is in the process of purchasing four horizontal CNC machining centers as well as a new plate saw and duplex square mill. The machines will support manufacturing of mold bases and hot runner systems at DME's facilities in Greenville, Mi.; Youngwood, Pa.; and Windsor, Ontario.
"By investing in new equipment, we are also investing in our customer relationships," explained Doug Miller, Operations Manager for DME. "Our customers' needs keep evolving, and we are determined to help them succeed." The new capital equipment helps DME bring greater value to customers by offering overall improved quality, tighter tolerances and, ultimately, faster delivery.
"These improvements come on the heels of DME's recent number-two ranking on the Quality Leadership 100 list, behind only Ford Motor Company," said Miller. "It all goes to show that everyone at DME – from our owners, to our leadership, to all our employees – shares the commitment to keep advancing quality across our organization. We're very excited to be able to bring such a big wave of state-of-the-art machinery to our operation because it will help us continue making a positive impact for our customers."
More Information : www.dme.net