Interdisciplinary group of participants from international companies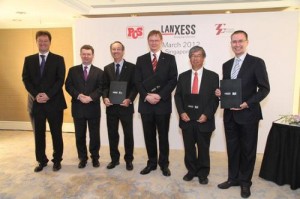 Cologne – LANXESS recently hosted the 8th "Innovation management round table", part of a series of events conceived and organized by the gas and electric utility RWE. "This network offers LANXESS a great opportunity to enter into interdisciplinary dialogue on effective innovation management and learn from the experience of others.
We can also share best practices and integrate proven approaches into LANXESS' innovation work," explained Dr. Paul Wagner, head of the Innovation & Technology Group Function at LANXESS. Conference participants included representatives of international companies from the automotive, food, insurance, logistics and media industries, and from business consultancies, banks and communications providers. There were also contributions from renowned consultants and service providers specialized in innovation management and associated products.
Motivate to good ideas, identify creative potential
The theme of the network meeting in the LANXESS Tower in Cologne, Germany, was "Culture of Innovation". This forms the basis for the successful development of new products, technologies and services. In the course of several talks, various approaches and programs were presented for continually presenting the topic of innovation to employees in new ways, identifying creative potential and, above all, implementing innovations swiftly and in a targeted way. "This requires the company to have a firmly-anchored, globally-oriented culture of innovation across every level of the hierarchy," says Dr. Jörg-Dietrich Jentsch, an expert in innovation management at LANXESS.
Culture of innovation at LANXESS
The Innovation & Technology Group Function is responsible for the culture of innovation at LANXESS. It promotes topics worldwide that offer great potential for innovation and complement existing business operations, and coordinates innovation activities across business units. In this way, it covers the entire innovation process from idea to product and technical process. The culture of innovation at LANXESS uses various tools, including an online platform where employees can post their own ideas and comments on specific topics such as electric mobility.
There is also a system for recognizing outstanding performances by researchers and experts. Furthermore, external specialists with years of industry experience are being involved in projects at an early stage, for example, to assess the technical feasibility and market potential of product ideas. "We now have a culture of innovation at the company having a cannon of values lived out by managers and employees. It encourages everyone to find innovative solutions, take on responsibility, dare to simplify and thus accelerate progress," says Wagner.
Positive verdict
Wagner's verdict on the "Innovation management round table" at LANXESS is a positive one. He felt the specialty chemicals company benefited in particular from the lack of competitiveness at the event, which allowed very open dialogue and promoted networking. "Feedback from our network partners clearly showed that we have developed a culture of innovation at our company that is working at the highest level. We can expect to gain a lot from this for many future-relevant topics such as green mobility," says Wagner.
Research expenditures per year at LANXESS have doubled since 2008, rising from EUR 97 to 198 million. LANXESS is currently involved in 203 research partnerships and has eight research centers around the world.