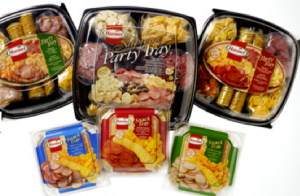 Consumers can help protect their wallets and the environment by using plastic innovations and smart packaging that help keep food fresher longer and ensure every last bit of the food is used before packaging is discarded, suggests Canadian Plastics Industry Association (CPIA). "There are a number of plastic packaging innovations making it possible to keep food fresher longer, so less is wasted and sent to landfills," said Carol Hochu, President and CEO, CPIA. "From resealable plastic bags and airtight plastic storage containers to portion-controlled plastic pouches for your favorite foods, the plastics industry offers many ways for Canadian families to reduce the amount of food wasted in their homes, making it more affordable for them as well."
Some reports show that 25% of food purchased goes straight to the garbage or is discarded by restaurants and grocery stores. In fact, rich countries waste 100 million tons of food a year, according to CPIA.Food waste also has a significant impact on the environment. The Global Methane Initiative confirms that methane gas produced by discarded food waste in landfills is 25 times more harmful than the carbon dioxide emitted from cars. In fact, landfills account for more than 20% of all harmful methane gas emitted.
"The issue of post-consumer food waste is a massive problem and arguably the most pressing issue regarding waste disposal," says food packaging consultant and author Dr Paul Butler. "Focusing on packaging material weight reduction and recyclable food packaging materials is important; however, developing new innovations in packaging to help consumers manage their food inventory better and contribute to a more sustainable supply chain can have an even more significant impact on our environment."
CPIA's proactive Intelligent Plastics campaign has compiled a few tips to help reducing food waste:
 –Products that leave nothing to waste: examples include Hellmann's Easy Out mayonnaise bottle – a non-stick, no waste plastic bottle designed to allow consumers to easily get all of the mayonnaise out of the packaging.
– Reseal for later: Check for foods that come packaged in resealable plastic bags and containers. Convenient resealable plastic packaging is available for shredded cheeses, tuna, sausage, dried fruit, pastas, cold cuts and more.
– Love your leftovers: There are so many ways to use leftovers – from ready-to-eat lunches to creating new meals from leftover ingredients to freezing them for later use. Storing leftovers in air-tight plastic containers can help keep them fresher longer.
– Cook once, eat for a week: planning meals in advance can help save money and precious time. About four in five said that plastic food containers and plastic wrap have made planning family meals easier.
– Pack your own: packing lunch instead of eating out can save money, and the wide variety of plastic bags and containers available today don't just keep food fresh, they can help control portion size. There are also new plastic containers and wraps that are designed to keep fruit and vegetables fresher even longer.
Source: http://www.adsalecprj.com/Publicity/MarketNews/lang-eng/article-67002685/Article.aspx