Weingarten, October 2013 – Coperion introduces the latest developments in its bagging and palletizing portfolio at K 2013 at its booth B 33 in hall 14. The IBP 250/500 packaging system (IBP = Integrated Bagging and Packaging machines) concentrates all weighing, bagging, marking, qualifying and palletizing functions in one small machine with a footprint of 8,500 x 2,200 mm.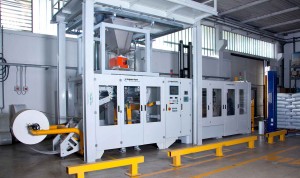 The product inlet is at a height of 2,700 mm including the product dosing and weighing system. The machine can be used to pack compounds of PE, PP, ABS, PC, PTA and PA including masterbatch applications. These machines are easy to operate, very flexible, adaptable to a wide product range and easy to maintain. They operate reliably under harsh industrial conditions. In addition, the system provides useful statistical reporting and diagnostic control combined with efficiency monitoring. This feature combined with remote technical assistance guarantees a reliable and efficient operation.
The Coperion packaging solutions include several models of FFS machines and palletizers on motorized karts that can be easily adapted to existing plant layouts. These karts are able to move on rails or with independent wheel drive to allow X and Y movements without appreciable turn radius.
All Coperion bagging and palletizing systems can be integrated into existing plant data acquisition systems for quality control and packaging efficiency control. The modular design allows an easy upgrade of machine performance to be made without the need to replace the complete system. A new cleaning system allows reliable cleaning to take place in less than a minute, without the need for operator attendance. This reduces the risk of product cross contaminations with a significant increase in the overall line efficiency.
With the latest series of bagging and palletizing machines Coperion now offers plastics compounders reliable and innovative solutions to meet the challenging demands of automatic packing systems, especially when frequent product changeovers are required.Coperion continues to strengthen its competence as a system supplier to the plastics industry. With the acquisition of Weicom Srl in 2012 and the recently finalized integration into Coperion Srl, Ferrara, Italy, the company's process chain has been extended to include innovative packaging and palletizing systems, enabling Coperion to offer even more complete systems, from one single source.
Coperion (www.coperion.com) is the international market and technology leader in compounding systems, feeding technology, bulk materials handling systems and services. Coperion designs, develops, manufactures and maintains systems, machines and components for the plastics, chemicals, pharmaceutical, food and minerals industries. Within its four divisions – Compounding Machines, Materials Handling/Extrusion Systems, Coperion K-Tron/Food and Service – Coperion has 2,500 employees and nearly 40 sales and service companies worldwide.