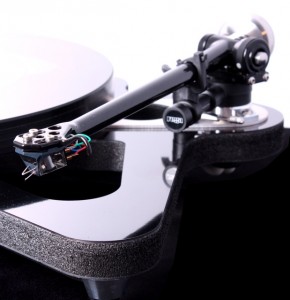 The RP8 from Rega is a new "skeletal" design turntable offering groundbreaking levels of performance and style. A critical component of the RP8 is the skeletal plinth, a composite structure utilising a featherweight, nitrogen expanded, closed cell, polyolefin foam core sandwiched between two layers of phenolic resin.
Stiffer and seven times lighter than the weight of the original Planar 3 plinth, the new material combination was developed exclusively for Rega over a three year period by Ramfoam, the UK foam technology experts.
This design prevents energy absorption and unwanted resonances which would add un-natural distortions to the music. Not content with an unprecedented stiffness to mass ratio, Rega have obsessively reduced any resonant properties by using the two different materials for the new stressed composite. This approach lowers their ability to pick up unwanted airborne vibrations.
Ramfoam application engineers were initially able to advise on material selection and sourcing and have since developed new methods to produce and shape the composite to the finished requirement.
The RP8 represents probably the biggest step forward in turntable design philosophy for decades. Composites technology is a cornerstone of the development and Ramfoam was happy to provide it.
Source: www.ramfoam.com