New: Casali Coconuts in a functional 160-gram cup made by Greiner Packaging International.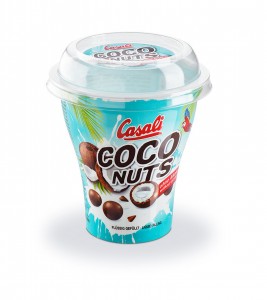 Casali Coconuts are an alcohol-free option to traditional Rum-Kokos. With this product innovation, the Austrian confectionary manufacturer, Manner, is filling a market niche. An elegant and functional 160g pot made by Greiner Packaging International provides the packaging for this Caribbean-like snack pleasure on the go.
Kremsmünster, 25 April 2013 – "Products in the confectionary sector are increasingly characterized by the convenience megatrend. The new cup for Casali Coconuts is a prime example of convenient packaging that fulfills today's consumer demands. Ease of product use is playing a decisive role in consumer spending choice here," says Kenneth Boldog, Head of Divison K at Greiner Packaging International.
A touch of the Caribbean on the go
The packaging concept has been customized for enjoyment on the go. In comparison with the existing plastic bag, the stylish contour-shaped cup performs much better with its obvious handling benefits: It fits perfectly in your hand and due to its unique shape it can be taken anywhere – in the car, on a picnic, or to work. The material is virtually unbreakable and the lid fits tightly, providing for optimum product protection (safety) and reliable reclosability.
34 Coconuts attractively packed
Apart from its benefits in regards to convenience, the cup packaging is also convincing at the Point of Sale. Its design and coloring are eye catching, making heads turn, and thus boosting sales figures. Greiner Packaging International manufactures the cup from PP with a diameter of 95mm. It is decorated by sleeving. The lid is thermoformed from transparent PET foil, and decorated with a label. The cup holds 160 grams – shaped for precisely 34 Casali Coconuts.
Non-alcoholic, tasty choco-coconut balls
Casali Coconuts are the latest, alcohol-free counterparts to Casali Rum-Kokos or "rum balls" as they are called colloquially that are already well known far beyond the Austrian borders. The structure of the new chocolate balls is based on that of real coconuts: A liquid coconut filling is covered by a layer of white chocolate with dessicated coconut, and the shell is made of milk chocolate with cocoa from Casali's roasted beans. With this new, non-alcoholic creation, Casali brings the delicious choco-coconut taste sensation to children for the first time.
Corporate Data
Greiner Packaging International is one of the leading companies in the European packaging industry. In 2012, the company achieved annual sales of EUR 472.9 million – more than one-third of the total Greiner Group sales. Greiner Packaging International has a workforce of 3,236 employees throughout 34 locations.
More information:  http://www.greiner-gpi.com