 New global color solutions for pigment preparations to be presented at the European Coatings Show
 Companies will provide worldwide service from initial concept to final product
 Advantages include: fast time to market, streamlined color data, high cost efficiency, accuracy and quality
Muttenz, April 21, 2015 – Clariant, a world leader in specialty chemicals, has chosen matchmycolor Colibri® color management software and Konica Minolta color measurement instruments for its point-of-sale tinting solutions for paint stores. The new integrated system, which is scheduled for worldwide roll-out, is currently being introduced in Italy, Germany, Hungary, China, USA, Mexico, South Africa, India, Malaysia and Brazil. It will be demonstrated at the Clariant and Konica Minolta booths at the European Coatings Show in Nuremberg from 21 to 23 April.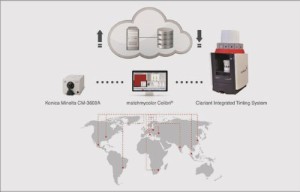 Clariant automatic colorant dispensers are already used by paint stores and retailers around the world. With the inclusion of the matchmycolor Colibri color management software and Konica Minolta color measurement instruments into its offering, Clariant will be able to provide customers with a comprehensive tinting solution that is capable of reaching a first-time match rate of 97% with its colorants.
The matchmycolor cloud-based software calculates color collections centrally in seconds and instantly makes the recipes available anywhere in the world, helping users to realize and optimize a full color gamut or color space. It is easy to integrate into third-party systems and color data can be exported to a wide range of dispensing systems: "With its unique offering of IT services and color know-how, matchmycolor is the perfect color matching software partner for Clariant," says Klaus Brychcy, Business Development Manager Tinting Systems at Clariant.
Michael Jakobi, Managing Partner at matchmycolor LLC, says that Clariant is an ideal partner for his company. "Our two companies work in similar ways," he says. "Clariant operates globally and offers tailor-made colorant solutions for customers, and it offers a full service from a single source: pigment preparations, software and systems technology."
"Clariant selected leading instrument supplier Konica Minolta for the accuracy and reliability of its instruments, as well as its superior inter-instrument agreement levels—a main prerequisite to work with digital color data", Klaus Brychcy says. Andreas Ullrich, Marketing & Sales Manager EMEA at Konica Minolta, adds: "With its global sales & support network and as main Colibri distribution partner of matchmycolor, Konica Minolta is able to meet the required service levels a company such as Clariant is expecting."
Website:  www.clariant.com