In China, PS prices saw their lowest levels of the past year, both in the local and import markets as per the pricing service of ChemOrbis. Lower upstream costs and weaker buying interest were amongst the main reasons behind this decreasing trend since spot styrene costs on FOB Korea basis also sank to yearly lows.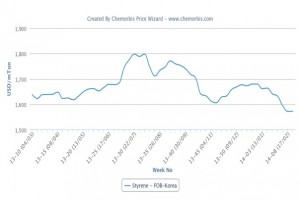 According to ChemOrbis Price Wizard, spot styrene prices hit their highest levels at the beginning of August 2013 for the 52-week period. Currently spot styrene prices are around $230/ton lower than that peak level and they are at their lowest level in a year's time.
In China, PS prices lost ground during this past week. Import GPPS prices for both dutiable and non-dutiable origins shed $10-15/ton while HIPS prices recorded larger decreases of $30/ton on the week. Players, pointing to the lower styrene costs, were reluctant about making fresh purchases.
A similar panorama was observed in the local marker for A and B grade GPPS and HIPS prices. Local prices lost around CNY100-200/ton ($16-33/ton) on a week over week basis. Overall supplies were reported to be sufficient inside the country but buying interest remained thin. Producers reported lowering their prices in order to speed up their sales.
A toy manufacturer in China commented, "We lack confidence in the PS market and we prefer to observe the styrene prices. We show very little interest in making fresh purchases because we do not think that PS prices are attractive enough under the current market conditions."
An A grade PS producer noted, "We lowered our GPPS and HIPS prices by CNY200/ton ($33/ton) from the previous week due to the softer styrene costs. Plus, we had to compete with other lower PS prices present in the market in order to generate better buying interest. We believe that PS prices may see further declines given the weaker styrene costs and ample supplies. However, if demand recovers in March, the extension of the drops may be limited."
A distributor remarked, "We received lower PS offers in line with local producers' price cuts on the back of the lower styrene costs. Buyers are acting cautiously when making purchases with the expectations of further decreases over the near term."
According to ChemOrbis, a trader said, "The import market tracked a stable to softer trend during this past week. We, too, conceded to some decreases in the face of poor import demand and the price cuts of some overseas producers. Plus, the competitive local prices also played a role in our decrease decision. In order to have a clear idea on the market, we are closely watching the styrene costs."