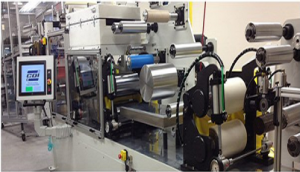 CDI (Century Design Inc) has installed a CD6105 Combi small prepreg machine at Huntsman's Advanced Technology Center in The Woodlands, Texas, USA. As Keith McConnell, President of CDI explains, Huntsman wanted a prepreg machine that would give it capabilities in the lab closer to that of its customers, so that it can apply a resin to a prepreg and make some products with it, enabling it to communicate better with its customers.
The easy-to-operate CDI prepreg machine enables Huntsman to focus on resin formulation rather than prepreg processing.
"This affiliation is a perfect fit for our small R&D production prepreg machine," says Keith McConnell, President of CDI.
"It is companies like Huntsman seeking to develop advanced resins that has allowed for 'push button' and 'on demand' prepreg technology to become a reality."
The CD6105 Combi machine is said to be ideal for laboratories as well as small production operations. It has a small foot print and is easy to set-up and operate.CDI designed and constructed a modified machine unique to Huntsman and its project requirements. It combines a hot melt processing capability with a solution coating system and is fully automated.The CD6105 Combi machine was launched earlier this year and CDI says it has already secured a number of sales throughout Europe, the USA and China.
Source: www.reinforcedplastics.com