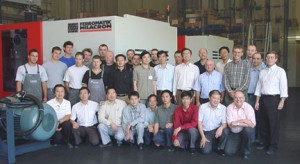 Cincinnati, Ohio and Georgetown, Ontario — March 28, 2013 — Milacron LLC, a global plastics industry leader and provider of premium metalworking fluids, and Mold-Masters, the industry's leading manufacturer of premier hot runner systems, today announced the completion of the Mold-Masters' acquisition by Milacron LLC. The transaction forms a leading plastics processing solutions provider, committed to bringing the most advanced technologies, products and services to customers across the globe.
The combined entity now consists of five world-class businesses:
Milacron Plastics Machinery (Injection, Extrusion and Blow-Molding)

Mold-Masters (Hot Runners)

DME Company (Mold Technologies)

Aftermarket (Parts and Service)

CIMCOOL Fluid Technology (Metalworking Fluids and Services)
Each business will continue to focus on the unique, value-added solutions they bring to their respective customers while leveraging the tremendous synergies that exist among all the businesses. "Today marks a very important and exciting transformation for our companies," said Tom Goeke, CEO of Milacron LLC. "We now have the widest range of exceptional plastics processing equipment, technologies and services in the world, supported by a team of experts with the engineering, product development and application-specific expertise that our customers need to succeed."
Under the terms of the transaction, Milacron LLC, backed by affiliates of private equity firm CCMP Capital Advisors, LLC, acquired 100% of the shares of Mold-Masters for an enterprise value of $975 million CAD ($950 million US). Tom Goeke, Chief Executive Officer of Milacron LLC will lead the combined entity with the support of an outstanding management group and a talented, global team of employees. Leadership of Milacron LLC's individual businesses, including Mold-Masters, will remain the same.
ABOUT MILACRON
Milacron LLC is a privately held company with the widest range of plastics processing equipment, technologies and services in the world. Through its five premier businesses – Milacron Plastics Machinery, Milacron Aftermarket, Mold-Masters Hot Runner Systems, DME Mold Technologies and CIMCOOL® Fluid Technology – it equips customers with exceptional products and services, providing the innovation they need to succeed in today's complex environment. The company's more than 4,100 talented employees represent Milacron at every corner of the globe, delivering a competitive advantage to tens of thousands of customers in markets as diverse as the company's portfolio of solutions. www.milacron.com.