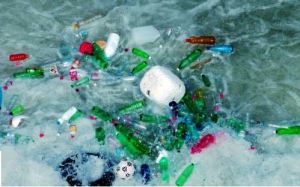 23 April 2013: The Board of Cardia Bioplastics Limited is pleased to announce that the University of Sydney has collaborated with CO2 Starch Pty Ltd (100% owned subsidiary of Cardia) on a presentation at the recent Society of Plastic Engineers, Australian New Zealand Technical Seminar in Sydney for Additives and Packaging sponsored by IMCD Australia.
Attached is a summary presentation prepared by Associate Professor Fariba Dehghani from University of Sydney on Cardia's biodegradable poly (propylene carbonate)+starch blend for packaging.
Cardia launched the world's first CO2+Starch biodegradable carrier bag in 2010. This patented breakthrough opened up the potential for Biodegradable polymers and polymeric blends for packaging applications to mitigate environmental problems caused by non degradable polymeric and plastic materials.Cardia advanced its patented CO2+Starch development one step further and produced a biodegradable CO2 + Starch bag with good mechanical properties.
CO2 Starch Pty Ltd Chairman Pat Volpe said: "In collaboration with the University of Sydney, CO2Starch Pty Ltd is looking to expand its patented PPC +starch blending technology into application with in the packaging industry before addressing potential applications in other industries including but not limited to the medical industry."
We are working with the University Of Sydney to develop and adopt their new unique technique that aims to produce PPC in a one step manufacturing process (rather than two) that also lower the levels of residual zinc catalyst and potentially lowers the costs of PPC." The aim is to apply the technology to many applications and produce alternative renewable biodegradable plastics at an economical price point whilst maintaining good mechanical properties that meet international compostability standards.
What is PPC
Poly (propylene carbonate) (PPC) is a biodegradable aliphatic polyester which is synthesized from copolymerization of carbon dioxide (CO2)and propylene oxide (PO).
It's features include:
● An environmentally friendly polymer due to capturing CO
● Good mechanical properties for packaging applications
● Safe degradation product (water & CO
● Biocompatible
● Compatible with fillers and other polymers
● Suitable thermal property for processing
● High transparency
Starch Blending-Thermoplastic Starch (TPS)
Starch is a natural biodegradable carbohydrate which is composed of two main macromolecular components, namely amylose and amylopectin.
Advantages include:
● Readily available
● Renewable resources
● Inexpensive
● Suitable thermal properties for processing
About Agreement between University of Sydney and Cardia.
Cardia Bioplastics' wholly-owned subsidiary ARC (Australian Research Council) and the University of Sydney to develop a PPC (poly resin made from the capture of CO2 emissions achieve international accreditation as a compostable polymers the application and use of PPC resin for Cardia CO2Strach Pty Ltd's ground breaking work allows PPC resins to be blended with starch with the potential to be cost-effectively transformed into a wide variety of industrial products that includes packaging, medical and coatings and engineering polymers.
The research agreement also allows for the PPC resin to be used for bio medical applications such as tissue scaffolds and drug delivery agents Subject to the research achieving milestones, CO2Startch Pty Ltd can earn exclusive marketing and distribution rights to the commercial application of the research after funding any IP patent costs resulting for the research. These costs are not part of the research funding and detailed above. The terms of the funding agreement remain confidential.
more information: www.cardiabioplastics.com