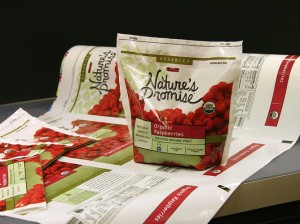 PolyCello, based in Amherst, Nova Scotia, believes packages should be made "smarter." The company's SmartPack coating technology reduces the number of films required for each package. This volatile organic compound (VOC)-free process can save production time and expenses, along with significantly reducing a package's environmental impact, the company stated.
"Flexible packaging can have numerous layers to it," a PolyCello spokesperson told PlasticsToday. "Each time a layer is added, an extra strain is put on recycling the packaging at the end of its usage. SmartPack is coating that gives the product the same stability and rigidness of a traditional lamination, but with fewer layers."
With SmartPack, a laminated package that once had a recycle symbol of #7, now has #2 or #4 rating. SmartPack has enjoyed near triple-digit growth every year since its introduction in 2007, the spokesperson said. PolyCello's interest in sustainability has been a long-standing one. The company was the first flexographic printer to gain ISO 14001 certification in the 2004 and the first Canadian flexo printer to gain SGP certification in 2011.
"We see launching biodegradable and compostable packaging options as building on our SmartPack product line and the natural progression to our sustainability efforts," the spokesperson said.
PolyCello invests in Vistaflex flexographic press
The company recently purchased a 10-color Vistaflex flexographic press from Windmoeller & Hoelscher. The Vistaflex marks PolyCello's first investment in W&H technology. "We believe strongly that investing in the technology and capacity to serve our customers' needs is the only way to guarantee best-in-class quality and responsive lead-times," the spokesperson said. "With these goals in mind, and of course, market demands for continued improvements in production efficiencies, we felt now was the time for this important investment."
The Vistaflex has a 67″ print width, performs automatic job changeovers, sets-up and stores up to four jobs while the press is running and is capable of speeds up to 800 m/min (2624 ft/min). The Vistaflex press expands the company's 10-color capacity and capabilities, allowing it to produce wider web widths and cylinder repeats. PolyCello will use the VistaFlex to print packaging for the frozen food, towel and tissue overwrap and pet food markets.
"PolyCello did not take the task of selecting a new press lightly," the spokesperson said. "We spent months evaluating several quality machine options. In the end, this particular press best met our needs for production capability and capacity, quality control and post-purchase support."
PolyCello is third generation family-owned and operated and currently employs 350 people in its Amherst, Nova Scotia and Belleville, Ontario facilities. The company has been named one Canada's 50 Best Managed Companies for four consecutive years, achieving Gold Standard status in 2011.
SOURCE : http://www.plasticstoday.com/articles/Canadian-converter-touts-smart-packages-09042012011