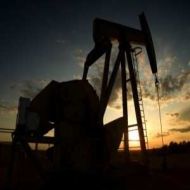 Shares of Cairn India , a subsidiary of Vedanta Group, plummeted over 2% as crude oil prices have been falling since yesterday after concerns over China's economic growth and no monetary stimulus by Federal Reserve.
At 11:57 hours IST, the share was trading at Rs 327.05, down 2.07% after hitting an intraday high of Rs 332 and low of Rs 323.55.
Even its trading volumes increased 4.4% to 2,35,037 shares as compared to its 5-day average of 225,105 shares.
Brent crude futures declined 0.31% to USD 92.28 a barrel today that is at around lowest level since December 2010. Yesterday it closed lower by USD 3 a barrel at USD 92.7 a barrel.
NYMEX crude closed down below USD 82 a barrel yesterday after earlier hitting an eight-month low of USD 80.39. It was down over 1% to USD 80.4 a barrel as EIA inventory moved up by 2.9 million barrels as against forecast of 1 million barrels.
Oil exploration companies get lower realisation from crude oil sales if crude oil prices fall.
Yesterday Federal Reserve ramped up monetary stimulus package by extending Operation Twist by USD 267 billion for six months to December 2012. World's second largest economy China's factory sector contracted for an eighth-straight month in June with export orders seen at the weakest since early 2009, according to the HSBC Flash Purchasing Managers Index, the earliest monthly indicator of China's industrial activity.
Source : http://www.moneycontrol.com/news/buzzing-stocks/cairn-loses-2-as-crude-oil-prices-slip-sharply_720685.html