Bayer MaterialScience has developed a new generation polycarbonate (PC) material, Makrolon Rx2430, for hemodialyzer housings being used by kidney diseases patients.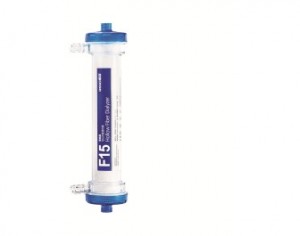 The company is also supplying the radiation-sterilization-stabilized grades of Rx2430 as well as Makrolon Rx1805, Rx2530 for the Asia Pacific market from its production plant in Map Ta Phut Industrial Estate, Thailand.
"This clearly shows our global commitment to the medical device manufacturing industry. It is our aim to supply material of consistent quality quickly and reliably from regional manufacturing sites to ensure fast delivery and satisfaction of local customer needs," says Michelle Jou, Head of Commercial Operation Asia Pacific for the Business Unit Polycarbonates, Bayer MaterialScience.
"Being close to our customers in Asia will help to create a leaner supply chain, thus making it possible to bring products to the market much quicker than in the past."
PC can withstand high temperature steam and gamma radiation sterilization procedures, which is essential for dialyzers and other medical and surgical equipment such as intravenous-access devices. Bayer says its Markrolon Rx2430 also displays high gamma sterilization resistance.In addition, the material exhibits good mechanical strength and melt flow, which is enhanced specifically to meet the needs of thin wall applications.
Furthermore, it allows visual monitoring during medical treatment because of the glass-like transparency of the finished product. Bayer adds that its medical grades products are being tested and meeting the relevant requirements of the United States Pharmacopeia Plastic Class VI Materials and ISO 10993, Part 1 "Biological Evaluation of Medical Devices" and approved by the US Food and Drug Administration (FDA).
Source: http://www.adsalecprj.com/Publicity/MarketNews/lang-eng/article-67006581/Article.aspx