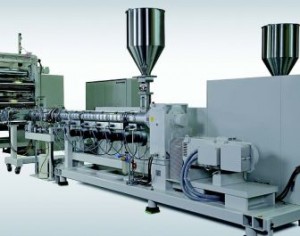 battenfeld-cincinnati stated recently it has received the second order this year for a multilayer thermoforming sheet extrusion line again from an Asian packaging manufacturer.
While the first line this year was a 9-layer PP sheet line, the new order is for a 7-layer PP/PS sheet extrusion line. As introduced, it is equipped with five extruders, reaches an output of up to 1,200kg/h and is laid out for sheet thicknesses ranging from 350-2,500μm.
With this extrusion line, the Asian manufacturer will produce trays, cups and lids for foodstuffs with an extended shelf life, such as sauces, baby foods, soups, convenience foods and dairy products. Food trays which can be sterilized and trays for fruit packaging as an alternative to cans will also be manufactured.
The core components of its multi-layer thermoforming sheet extrusion lines include high-speed single-screw extruders, said battenfeld-cincinnati. The company has extended its product portfolio and now offers a 45mm high-speed extruder model in addition to the 75mm screw size, which has already been on the market for several years.
In the multilayer lines, the 75mm extruders take care of plasticizing the main layers with an output between 300-1,000kg/h, while the 45mm extruders produce the functional layers such as bonding adhesives and barrier materials, but also surface covers and high-gloss finish.
battenfeld-cincinnati stated that the feedblock-die combination ensures an even distribution of all layers both across the width of the sheet and in the direction of extrusion, which is indispensable for a reliable barrier effect. The feedblock and die also feature an edge-encapsulating system to ensure resource saving processing of the barrier material as well as all other materials, including direct, in-production reclaim of the mono-sheet edge trim thus generated. In addition, the polishing stack, with polishing rolls and post-cooling rolls arranged extremely close to each other, favors optimal sheet properties and good transparency.
Barrier sheet is in strong demand on the Asian market, especially in countries such as Japan, Korea, Taiwan and Thailand. According to battenfeld-cincinnati, the demand is driven by climatic conditions, transport over long distances as well as the products to be packaged, which require packaging for a long shelf life time. The annual growth rates in the segment of barrier sheet and packaging produced from it range from 5-8%.
In addition, fruit packages for small quantities, for example for pineapples or mangos, are also increasingly found in European and North American supermarkets. While such sheet and sometimes also the cups made from it were still exported from Europe a few years ago, they are now being manufactured in the fruit-producing countries, which in particular, packaging with barrier layers is advantageous because it can lengthen the shelf life of foodstuffs, preserve their fragrance, flavor and taste and prevent short-term degradation of ingredients such as vitamins.
Source : www.adsalecprj.com